Hockey Alberta cancels Provincial Championships
Posted on January 20, 2021 by Taber Times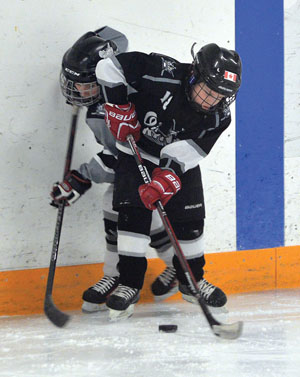 TIMES FILE PHOTO
By Cole Parkinson
Taber Times
cparkinson@tabertimes.com
The COVID-19 pandemic has claimed Hockey Alberta's Provincial Championships for the second straight year.
In an announcement last week, Hockey Alberta made the call to cancel the upcoming tournaments in light of the uncertainty the pandemic continues to bring for organized sports in the province.
"Hockey Alberta has made a difficult decision regarding this season's Provincial Championships. With the uncertainty we are facing in the fight against COVID-19, the decision has been made to cancel all tournaments for the 2021 Hockey Alberta Provincial Championships, presented by ATB Financial. These tournaments will not be rescheduled for the 2021 season," reads a release from Hockey Alberta. "This decision has been made with the safety of all our members and participants in mind. Within the current environment in Alberta related to COVID-19, hosting tournaments will likely not be possible, and making this decision now will ensure members do not waste time, money and other resources in planning to host tournaments."
With hockey in Alberta suspended in early December, the decision to cancel all provincial championship tournaments doesn't come as a shock.
As Alberta's mandatory restrictions extended to remain in place until at least Jan. 21, the return date for regular hockey activities is still unknown — which complicates schedules for teams vying to make provincials this year.
"Hockey Alberta remains focused on working with government officials to develop a plan that will permit teams to return to practice and game play and keep our youth active for their physical and mental well-being. Working with league representatives at each level of hockey we hope to be able to salvage the season. The cancellation of provincial tournaments provides leagues with the opportunity to plan the remainder of the season, scheduling play through until the end of the season for all teams," continued the release. "Establishing the meaningful competition required to identify and move teams from league play into playoffs will not be easy. However, as we return to play this season, leagues will have the ability to still find ways to determine a champion. Hockey Alberta remains optimistic we can regroup and host the 2022 Hockey Alberta Provincial Championships."