A look back at 2020 year of sports
Posted on January 6, 2021 by Taber Times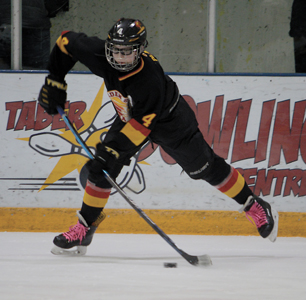 TIMES FILE PHOTO
The year 2020 will be looked back on as an odd one, especially when looking back at sports. Due to the COVID-19 pandemic, many seasons saw cancellation in the spring and stunted restarts in the fall.
January: The Taber peewee "AA" Golden Suns had themselves a game to remember to finish off the 2019 portion of their regular season. Heading out on the road to face Medicine Hat Orange, the task of walking away with a W on away ice was no issue for the Golden Suns as they handed Medicine Hat a 7-2 loss.
Aaron Edlund, vice principal at Barnwell School, and its athletic director, has been teaching at Barnwell School since the 2007/2008 year. As the world enters a new decade in 2020, Edlund caught himself walking around the school's gymnasium and seeing exactly how many banners its student athletes have been able to win in basketball, volleyball, track and field and cross country.
W.R. Myers Rebels varsity girls basketball team earned the tournament title in Sherwood Park this past weekend, thanks to a furious fourth-quarter comeback at Bev Facey against Hunting Hills in a 58-53 victory. "We held them to five points in the fourth quarter with some outstanding defence," said Kenney Wood, head coach of the W.R. Myers Rebels varsity girls basketball team, adding a bankshot three pointer and two free throws late were the difference.
St. Mary's Celtics boys basketball team brought its 'A' game to the championship final of its home tournament against Willow Creek on Saturday in a 68-62 victory. Looking like the team to beat on the other side of the draw, head coach Ken Gabruck noted nothing was certain for the majority of the see-saw battle.
Cranford's Kaleb Muller will be one of 15 Canadians competing at the inaugural ISU Four Continents Speed Skating Championships starting on Friday and going until Feb. 2 in Milwaukee, Wisconsin. Comprised mainly of NextGen athletes, Canada will compete in long track against top competitions from North America, South America, Asia and Oceania for the first edition of the international competition.
February: Taberite Darin Wight eclipsed the entire open field at the Southern California Super Spartan Race last month for top honours, beating out nearly 5,000 participants with a time of 59 minutes and 23 seconds.
St. Mary Celtics boys basketball team continued its winning ways in tournament play this past weekend, with a championship title in Nanton, marking its third straight tournament title. The Celtics came busting out the gate and dominated in its opening game with a 103-48 victory over Matthew Halton from Pincher Creek.
With the Town of Taber investing heavily in the redevelopment of the Taber Trout Pond in recent years, a new campground should be available for the area in 2020. The town invested more than half a million dollars in the pond area in 2019, and those investments are about to pay dividends for outdoor enthusiasts.
The Taber Gymnastics Club is in full swing in its competition season, having already competed in the Glacier Challenge (Kalispell), Battle at the Bridge (Lethbridge) and Ed Vincent Invitational (Calgary). "We have grown a lot this past year and welcomed a lot of new faces onto our competitive team which has been so rewarding," said club competitive coach April Klassen.
March: Taber Curling Club is set to make history in 2021, when it will become the first club south of Calgary to host the Alberta Firefighters Curling Association's 62nd Annual Championship. Captain Steve Swarbrick of the Taber Fire Department has competed in the event for 10 years, and helped spearhead bringing the event to town.
March: Jan Clemis has pledged to live life to the fullest ever since getting the gift of life from her
son Blair of a new kidney a year-and-a-half ago. That life was on full display recently at the 2020 World Transplant Games in Banff, where Clemis represented Team Canada and earned both a silver and gold medal in her pursuits in cross-country skiing and snow-shoeing respectively in her age group.
Part way through the Taber peewee "AA" Golden Suns' Game One of the South Central Alberta Hockey League Championship against the Olds Grizzlys, both teams were informed there would not be a league champ officially crowned in the fallout of the Coronavirus pandemic that has canceled or postponed sports leagues across North America. Nevertheless, the Suns won the game anyway on Thursday in a gritty 1-0 overtime victory at the Taber Arena in what may be the last sporting event in a long time in the area.
There is an old sports cliche that says it's not about how you start, but how you finish. And the Taber midget Oil Kings hockey team were the very definition of finishing strong on the way to its Tier IV Central Alberta Hockey League championship to cap off its minor hockey season earlier this month.
April: The Taber Community Centre will reach an important milestone in 2020, but with pandemic restrictions in place in the community it remains unclear if the municipality will be able to publicly mark the occasion. "It is 50 years this year," said Mayor Andrew Prokop. "Basically there's some renovations due for this spring-summer, to do some of the kitchen area in the civic centre (Taber Arena) main area. Nothing is planned 100 per cent for sure at this stage, but it's definitely been talked about and considered to do something."
Just as it is the game of baseball for the Vauxhall Academy of Baseball Jets, it is also the game of life when a worldwide pandemic of COVID-19 grips the very foundations of the sport. The Vauxhall Academy of Baseball shut down its spring season in accordance with self-isolation in trying to flatten the curve in the spread of the COVID-19 virus in North America.
Raymond will have to wait until 2022 to host the Southern Alberta Summer Games. Earlier this month, in light of ongoing developments relating to the COVID-19 pandemic, the Southern Alberta Recreation Association (SARA) made the decision to cancel the 2020 Games, set for Raymond this July 8-11.
The prescription to help flatten the curve of new cases of COVID-19 popping up in Canada has been to enjoy your couch more in self-isolation. Les McTavish, head coach of the Vauxhall Academy of Baseball, has been catching up on retro Major League Baseball, bringing back fond memories, now that that academy's spring season has been cancelled due to the COVID pandemic.
May: Lethbridge Sport Council announced the winners of the 10th annual Lethbridge Sport Council Achievement Awards this week for their achievements and contributions to sport in Lethbridge in 2019. Among the winners were Bryce Gallup, junior male athlete; Angelina Ellis-Toddington, junior female athlete; Taber's Kaleb Muller senior male athlete; and Sandra Latrace, senior female athlete.
With the province's announcement to allow golf courses to be\ reopened across Alberta, the Taber Golf Course started allowing golfers back on the links on May 4. While the course is open, there are a number of regulations that golfers must follow when they do go golfing.
With work being finalized this month, the Taber Trout Pond's new campground is now set to open on June 2 after getting council's stamp of approval last week.
While COVID-19 has delayed and altered the usual schedule, the Vauxhall Spurs are still confident they will be hitting the diamond this year.
June: Things are finally starting to open up after COVID-19 forced things to slow down in early 2020. Come next week, the Municipal District of Taber will see many of their recreation areas open up to the public after delays were set due to the pandemic.
July: The Western Hockey League is aiming to drop the puck at arenas across Western Canada and the United States on Oct. 2, but commissioner Ron Robison says meeting that targeted date will require a lot of work, not to mention a bit of luck.
The crack of the bat can finally be heard in Vauxhall after a delayed start to the baseball season. While the normal American Legion Baseball season was cancelled due to the COVID-19 pandemic, the Vauxhall Spurs have set an exhibition schedule throughout the summer against the Medicine Hat Monarchs and Medicine Hat Knights.
While the Vauxhall Spurs were slow out of blocks in the first few games of the season, the team has been red hot ever since. Despite losing the first three games of their exhibition season, the Spurs rattled off the next three wins to wrap up last weekend and their bats didn't slow down over this past weekend of action.
This weekend the hamlet of Grassy Lake will feature plenty of riders as horses will be making their way to the Grand Forks campground. Starting on Saturday morning at 10 a.m. riders will hit the trails for an approximately four hour ride.
August: The Vauxhall Spurs saw their season end this past weekend where the team once again walked away with more wins than losses. Heading to Medicine Hat on Saturday for their final road games, the Spurs were able to take both games.
Judy Carrier, a resident of Taber, is planning to ride 200 kilometres and raise $500 during the month of August for The Hospital for Sick Children (SickKids) in support of its fifth annual Great Cycle Challenge Canada.
A change of venue for an established tournament has proven to be a big plus for the Taber Golf Club. The McLennan Ross Junior Tour shifted 50 kilometres east last Wednesday, making for a big field for the Taber Golf Club's annual junior open.
New Taber Golf Club course superintendent Brian Murray has been settling in nicely, as the warm summer continues to roll on for links enthusiasts. "It has been a great transition. We have a really good crew who is very, very talented," said Murray.
September: A new golf course may soon be coming to the Taber area. And this golf course wouldn't require clubs or golf balls as a pair of residents are looking to establish a disc golf course near the Taber Trout Pond.
While the spring season saw cancellation due to the COVID-19 pandemic, the Vauxhall Jets have begun their fall season with plenty of additional safety measures for players and coaches.
September: After a summer of work, Ken McDonald Memorial Sports Complex (KMMSC) finally has a fourth ball diamond to complete a quad.
The Vauxhall Academy of Baseball Jets finally hit the field at Jets Stadium this past weekend after playing several games in Lethbridge. While the team had home-field advantage, they were unable to hold onto a few leads during their doubleheader on Sunday afternoon against the Prairie Baseball Academy from Lethbridge.
October: The Taber senior Rebels football team scored early and often to run away with a convincing win Friday night over the Medicine Hat High School junior-varsity team. But according to Jason Jensen, head football coach for the Rebels, just the fact his team was able to hit the field, under the lights in Taber, was a major accomplishment.
Despite uncertainties surrounding exactly what pandemic hockey will look like this season, registration numbers are up for Taber Minor Hockey. Dan Remfert, president of minor hockey, attributes the jump in numbers to the fact Taber has a great program, along with a few other factors.
Defenses have not been able to slow down the Taber bantam Rebels so far throughout this South Alberta Minor Football Association season. The Rebels, coming off back to back wins over Claresholm, now enter the final stretch of the season with late-October games against Magrath.
Even with a different type of fall season in 2020, returning player and Lethbridge product Kalem Haney, was just happy to be back on the diamond after their spring season was completely cancelled a few months back. "In some ways, it has been different and in others, it has been the same. We are taking many precautions for COVID like wearing masks on the field and using hand sanitizer in the dugout. The most important thing is that we are playing baseball."
November: It was a football season unlike any other in recent memory. With the COVID-19 pandemic in full swing, uncertainty was in the air over the summer, as the real possibility of a cancelled 2020 football season set in. But in the end, Taber's atom, peewee, bantam and senior teams managed to each have seasons, albeit a little bit different than normal.
As COVID-19 restrictions continue to impact people across the province, many are turning to sports as an avenue to stay active and keep busy throughout what promises to be a long winter. Taber sturling club is no different, as organizer Steve Swarbrick pointed out Mondays have been very busy down at the Taber Curling Club.
After a delayed start to the usual hockey season, several Taber Minor Hockey teams were in action this past weekend as part of Central Alberta Hockey League's tiering season.
The Vauxhall Academy of Baseball Jets have moved indoors for winter training as part of their usual schedule of baseball events. Despite a challenging, protocol-filled fall season, the Jets coaching staff and players were able to still hit the field to get some games in under irregular pandemic restrictions.
December: Taber's Alyssa Pavka knows a little something about suffering setbacks and persevering through them. An injury halted her senior season at St. Mary's High School and last spring, the COVID-19 pandemic put a stop to the U18 spring season. Through it all, however, Pavka has signed on to play post-secondary volleyball for the Lethbridge College Kodiaks.
Randy Spenrath, former principal for St. Mary's School, was recently awarded the Alberta School Athletic Association's 'Lorne Wood Award'. Spenrath was nominated by the St. Mary's Athletic Department due to them wanting to recognize him for dedication towards school athletics.