SATRA hopeful of M.D. of Taber support in finding new trails
Posted on December 30, 2020 by Taber Times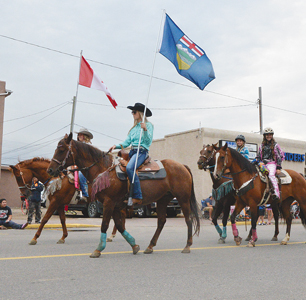 TIMES FILE PHOTO
By Cole Parkinson
Taber Times
cparkinson@tabertimes.com
While the Southern Alberta Trail Riders Association (SATRA) had already approached the Town of Taber around their search for new trails, they were hopeful the Municipal District of Taber could lend a helping hand.
SATRA was in town council chambers on Nov. 23 where they asked to stage their equestrian activity at the Taber Trout Pond parking lot and were asking for a designated parking area.
Previously, they staged their trail rides out of the old Pro Rodeo grounds off Highway 864 when it was a lease space but the rodeo grounds are no longer leased and the Town is not maintaining the area.
Taber town council carried a motion unanimously to direct administration to engage with the Southern Alberta Trail Riders Association to discuss suitable options for staging in the Town of Taber for trail rides, to be brought back to council for approval.
At M.D. council's meeting on Dec. 8, Coun. John Turcato brought forward a request from the Taber Recreation Board in helping find a suitable location for trail riding.
"Taber rec board contacted me and was looking for some assistance in finding an area that would be suitable for trail riding within the M.D," he explained. "I don't know what challenges there would be since all of our properties are leased to third parties and I guess you would have to find a third party that would allow that kind of activity that they lease from us. I think they are looking for something that would be suitable for trail riding. There has been some problems between Trail 77 and some of these trail riders on horses. Some of the infrastructure that has been put in can't sustain horses but some of them can. I don't know if this is something that can be worked out by the groups or if we can come up with an alternate area where they can ride."
While no one on council was opposed to having the group find a new riding location, there was a concern around dedicating administration's time.
With a number of people already working on the issue, many on council felt it was best if they worked together to find a location.
"I'd rather see the three groups have a conversation before we task administration with finding an alternate riding (site)," said Coun. Tamara Miyanaga.
A motion to have administration find a suitable area for them to ride was defeated 6-1.
Coun. Turcato was the lone supporting vote.