Jets moving indoors after successful yet unconventional fall
Posted on November 25, 2020 by Taber Times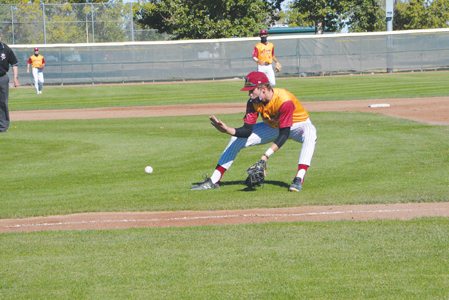 TIMES PHOTO BY COLE PARKINSON
By Cole Parkinson
Taber Times
The Vauxhall Academy of Baseball Jets have moved indoors for winter training as part of their usual schedule of baseball events.
Despite a challenging, protocol-filled fall season, the Jets coaching staff and players were able to still hit the field to get some games in under irregular pandemic restrictions.
"When I look at it, it was as good as it could have been as far as making the best of the opportunities. I thought overall, our players and our team handled it well. They came with the right approach and they got as much out of it as we possibly expected," explained Jets head coach Les McTavish.
While the team wrapped up their outdoor baseball activities in late October with their annual 100 inning game, they have yet to enter the Vauxhall Community Hall. So far, Jets players have been training within Vauxhall High School and the coaching staff is focusing on getting the players in top physical condition in preparation for the spring season.
"Our primary purpose is getting stronger. Overall, the whole group is getting stronger and if you are beat up or had some injuries you want to get healthy and strong. That's our objective from now until Christmas and we'll certainly start making some small strides on the baseball skillset side, meaning throwing and hitting. Our focus right now is to try and get strong and add as much mobility, strength and explosiveness as we can, physically, so when we push forward from the baseball perspective, we can reap those benefits," continued McTavish.
Utilizing both the VHS gym, weight facility and hall, the Jets had been exploring constructing their own facility near Jets Stadium.
Understandably, those plans have been put on hold for the time being.
"I wish we had a great update, but I don't. Obviously, due to a few main reasons right now, we've put it on the back burner. We do have some goals we want to do this winter. We want an online event of some sort — a live auction, a silent auction — as well as some sort of awards banquet and those may be virtual. The Kitagawas and Yukio is still doing his Clicks for Fieldhouse. We still ultimately have that goal but we've pushed the pause button a bit to focus on things we need to stay a viable program."
While moving indoors may seem like a potential challenge for the program, training sessions from prior winters don't really change for VAB.
"We always did small numbers so that helps and we've never had 15 players in the facility at one time, or if we did, it's very rarely. We'll make sure we have small numbers and follow all of the protocols. The nice part for our program is everyone is part of a cohort and they live together. That does protect us a little bit, it certainly doesn't make you invincible by any means but it does protect us. We hope to be in the facility (this week) and we've been training in the weight room and high school gym," said McTavish.
While winter training is on the Jets' schedule for the next several months, March marks the beginning of the spring baseball season. The Jets usually make their way down to the States for several games but due to the ongoing pandemic, those trips are still up in the air.
In order to be prepared for whatever may be the recommended guidelines come spring, the Jets staff have been analyzing several different schedules that could potentially fill out their second half of the outdoor season.
"We have updates but every time I talk about something it seems like things change. Basically, where we are is we are trying to construct three different schedules — one is status quo, travel to the U.S. and we certainly are not holding our breath on that but you never know. One where it is just in Canada and the third option is just within Alberta, which may be the case," said McTavish.
Whatever we do, we have a pretty good base for all three options and we've planned for all three options, but it is hard to advertise and produce a schedule when we really don't know. We're holding our breath and we're hoping to get better. We hope we can go on normal trips but we do have some really cool things that we are planning on that side," added McTavish.
Last week, several Jets players committed to post-secondary programs for the 2021-2022 season.
Jackson Clemett accepted an NCAA Division 1 athletic and academic scholarship to attend the University of Utah Utes in Salt Lake City, Utah, Anson McGorman accepted an NCAA Division 1 scholarship to attend Sacramento State University in Sacramento, Calif, Shaye McTavish joins Kalem Haney as he accepted an athletic and academic scholarship to attend NCAA Division 2 University of Bismarck, N.D., Jack Mount accepted an athletic scholarship to attend NJCAA Division 1 Cloud County in Concordia, Kan., and Tyler Boudreau is off the Midland College in Midland, Texas.
"We're fortunate that we had six guys who signed on the college front which is great," said McTavish, who also explained how the coaching staff approached speaking with senior players about the next step of their baseball careers during an uncertain time. "You sit down on an individual basis and pick your way through it. We were fortunate that we had some kids who did a great job. We do have some players who haven't signed who are really good players. They're going to get good opportunities, and they have had opportunities, but they chose not to take it yet. We're pretty optimistic we can get everyone placed this year and we're excited about the original six."