Suns dealing with COVID-19 regulations
Posted on November 18, 2020 by Taber Times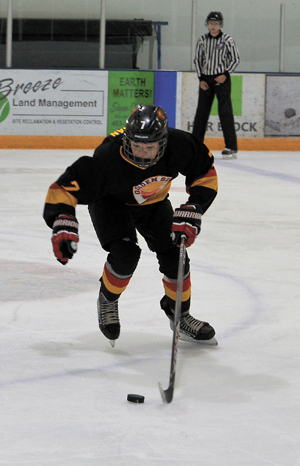 TIMES FILE PHOTO
By Garrett Simmons
For the Times
It has been a challenging start to the 2020/2021 season for hockey teams throughout Alberta.
The sport was hit with a new set of challenges on Nov. 12, when the province announced a ban on team sports for a two-week period between Nov. 13-27.
And while that sports ban only applies to the Calgary and Edmonton areas, and the cities of Fort McMurray, Grande Prairie, Lethbridge and Red Deer, it came at the worst-possible time for the U18 "AA" Golden Suns. The Taber team was slated to play the Lethbridge Hurricanes for back-to-back games on the 13th in Lethbridge and back in Taber on the 14th.
"We never played Lethbridge this past weekend," said Lynn Degenstein, head coach of the U18 Suns, whose team was also set to face the Hurricanes on Nov. 20 and Nov. 22, two other games which will have to be postponed.
As the schedule sits now, the next game for the U18s is set for Dec. 12 in Taber against the Medicine Hat
Hounds.
Degenstein added the lack of games early in the year has meant a bit of an adjustment to practices.
"Practices have not been difficult to plan or execute," he said. "We focus on a combination of individual skill development and team tac- tic development like any season. Our players have been engaged and focused. They understand what the situation is and have been working very hard."
Pandemic scheduling put in place by the South Central Alberta Hockey League, which started off with four games against Lethbridge followed by four against Medicine Hat, was also an added motivational factor.
"The schedule SCAHL had created gave us the opportunity to treat each set of games like a playoff series, and our goal was to try and win each series," said Degenstein. "We had been focusing on our upcoming games with Lethbridge and I'm sure there will be a sense of let down now that those games appear to be canceled."
As COVID-19 cases spike across the province, the league might have to go back to the drawing board.
"I am uncertain on what the remainder of the season will look like," said Degenstein. "I hope there is a meaningful season after this break and our players get the opportunity to compete. It would be a shame if our third-year players did not get the opportunity to finish their minor hockey careers properly."
But while games have been few and far between, the coach added there has been no shortage of practice time.
"The coaching staff 's focus has been similar to most seasons," said Degenstein. "We have picked up extra ice slots on weekends to make sure we are on the ice and have the extra time to develop. We try to get a good balance of individual skill development and team tactic development in our weekly plans and no matter what the game schedule looks like, we will continue to do the same. We want the players ready to play games this season if given the opportunity, as well as be prepared for whatever level they play at next year."
Golden Suns president Kevin Serfas, who also coaches the U13 team, emphasized the focus on skill development in early-season practices this year.
"We always try and focus on skills. Even in a normal year. What this year has allowed is for us to spend more time getting those skills right," he said. "It gets a bit monotonous for the kids but at the end of the day, it is going to make them that much better as hockey players."
The U13 team is scheduled to hit the ice Dec. 4, 5, 12, 13 and 15 with games against Medicine Hat Black.
Exactly how, and if, these games will be played, and how many players teams will have available, is up in the air, as Serfas added the Suns organization is trying to be a flexible as possible to provide a quality program for 2020/2021.
"It's been a very steep learning curve for the coaches," he said. "Anything that we've used in the past as a season platform has been basically thrown out the window and we are starting from scratch. The situation from week to week is very fluid."
Player attendance at practice has been another wrench in the plan, he added, as the pandemic has made it difficult to ice a full roster.
"One of the biggest issues is that from one practice to the next you don't know who you have coming," said Serfas. "All the GSAA teams have had kids caught up in AHS isolation orders because of close-contact notifications from school. The U13s were almost to the point of shutting down for 14 days as we had eight kids on isolation. We had planned a whole month of inter-squad games and that had to be cancelled. The kids have been really good. And that starts at home with the parents. Everyone knows this situation is completely out of our control. If parents stay positive, the kids inherently stay positive. They know they are in a good program and there are no other better options out there."
Jamie Matisho, Golden Suns vice- president, and manager of the U15 team, the only Suns team that has been able to get in games this year, said uncertainty has definitely been the biggest challenge this season.
"Causing delays in our normal timeline, decisions having to be made quickly, and often having to course correct multiple times adjusting to shifting provincial guidelines as they unfold," he said. "It has not been easy to determine the best way to proceed into the season in the face of this uncertainty – starting from how to run tryouts in an appropriate manner, whether to adjust fee schedules, how to control spectator numbers at each game, this list goes on and on."
As the SCAHL has now been paused from Nov. 13-27, the U15 team was unable to play its scheduled games Nov. 14 and 15 against Foothills, as the schedule has the team back on the ice Dec. 5 against Okotoks.
The Foothills games will likely be wiped from the slate, according to Matisho.
"With the challenges involved in cohort groups and quarantine periods, this most likely means the missed games will not be rescheduled and our teams that missed their games this past weekend will have a further condensed season," he said. "Our hope is that these restrictions will have the intended impact and we will be able to resume league play after this period."
On the ice, the U15 Suns battled Foothills to a 4-4 draw on Nov. 6, as Camden Cunningham scored twice and Kayden Yeaman and Nixon Hiebert recorded singles. Yeaman also picked up two assists.
Taber recorded a 7-1 win over Foothills in game two, as Kayne Van Metre had a goal and three assists and Hayden Smith had a goal and two helpers. Kobe Urasaki, Rhys Schroeder and Mason Eggen all had two-point games with a gaol and an assist each. Hiebert and Braxton Hanna also had goals.