Impacts vary on W.R. Myers sports programs
Posted on October 28, 2020 by Taber Times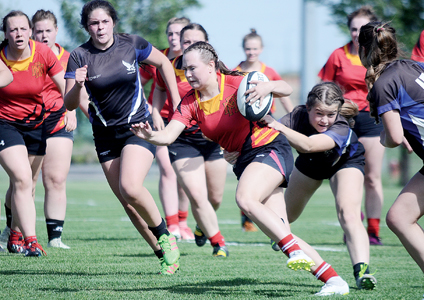 TIMES FILE PHOTO
By Garrett Simmons
For The Times
Sports are back at W.R. Myers High School – at least in a COVID-19 context.
The pandemic shut down schools back in March, which brought with it a pause to school sports.
That has changed this fall for some school divisions in southern Alberta, and W.R. Myers is no exception.
"All Horizon schools were allowed to begin extra-curricular activities on Sept. 28, using cohorts," said Myers vice-principal Greg Bowes.
"Not all Horizon schools started up but we did that day. We consider ourselves very fortunate for the opportunity to play sports, as many school divisions around the province are not opening up any opportunity for extracurriculars."
Currently at Myers, the school has four volleyball teams up and running (junior and senior varsity boys and girls), along with the school's cross-country team.
And while some sports have gotten off the ground, golf was an early casualty of the 2020/2021 athletic calendar adjustment.
"We were scheduled to host the 2020 Golf Zone Championship on Sept. 17 but unfortunately that had to be cancelled," said Bowes. "One of our Grade 12 students, Alanna Makarchuk, was really hoping to defend her zone gold medal on her home course, so it was a bummer for her and everyone involved. Alanna had a great shot at winning the provincial banner as well, so having that opportunity taken away was very disappointing."
But it hasn't been all bad news for Rebels sports, as Myers teams have been practicing, with an opportunity for games on the horizon.
"There are currently no games on the calendar for any of our teams, however, we are now allowed to form mini-leagues within our school division and have intentions to hopefully play some games versus the other few high schools in Horizon School Division if we can organize it in a safe, sensible way," said Bowes. The pandemic has shifted timelines for professional sports throughout the globe, and certainly, high school sports is no exception. Exactly how sports will look for the rest of the fall and winter, and into the spring, is anyone's guess.
"We plan on running the fall sports until the end of November, taking December as a break and beginning winter sports in January," said Bowes. "And I am hopeful but not holding my breath, on the possibility of zone and provincial competitions in 2021. This COVID-19 virus has caused a major interruption in all of our lives, and I do not see it going away too quickly, unfortunately."