Rebels football teams post wins over weekend
Posted on October 21, 2020 by Taber Times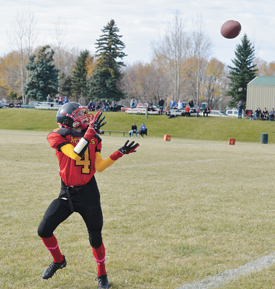 TIMES FILE PHOTO
By Garrett Simmons
For The Taber Times
Defenses have not been able to slow down the Taber bantam Rebels so far throughout this South Alberta Minor Football Association season.
The Rebels, coming off back to back wins over Claresholm, now enter the final stretch of the season with late-October games against Magrath.
Taber's most recent two wins, 38-22 in Taber and 48-20 in Claresholm, showcased a balanced Rebels attack and a defence able to come up with key stops.
"Defensively both games, Allen Clements, Brigham Porter and Elias Cooper have been very solid and have been leading the team in tackles," said Rebels head coach Jamie O'Connor, who added other defensive highlights included two Bryden O'Connor fumble recoveries and a Clements strip sack that led to a Tyson Harker fumble recovery. "Nobody has yet to be able to run up the middle with Harker and Nathan Murray occupying our D line."
The Rebels head coach praised the work of defensive co-ordinator Jeremy Cooper for putting together a solid game plan week after week.
"We have been very solid on defence this whole season and I've enjoyed watching coach Cooper work with them and fine tune their skill development as the season has went on," said O'Connor. "Cooper has brought his wealth of experience and has had these kids playing well from the start of the season, and he's been able to get most of the team on the field at some point and playing at a strong level, playing very disciplined football."
Taber's offence has also been explosive this season, with plenty of points scored both on the ground and through the air.
"Offensively, I've been very pleased with the fact we have been able to string together a lot of 7-10 play drives with a good mix of run and pass, resulting in scores and taking a lot of time off the clock," said O'Connor. "We have been led by the offensive line of Harker, Kressley Clarkson and Murray, usually giving quarterback Cody Heide time to read his options, and also helping have a very good run game this season."
Over the two Claresholm games, Heide was able to score four majors with his speed and good head-up play on display. Bryden O'Connor scored five touchdowns on the ground with a strong north/south running style, while slotback Elias Cooper scored twice through the air. Single scores were supplied by fullback Allen Clements, receiver Brigham Porter and running back Xavier Hull.
"We have a versatile backfield in that we have a strong, good blocking fullback in Clements, and we have two running backs with two totally different running styles and a quarterback that is one of the fastest in the league," said O'Connor. "Hull is a smaller, fast back that can escape tacklers in more of a sweeping style, and O'Connor can follow Clements and bulldoze his way to good yards."
With the Claresholm games in the rearview mirror, the Rebels now prepare for Magrath, with a Tuesday Oct. 27 game at 6:30 p.m. in Taber and a season-ending game on Saturday, Oct. 31 in Magrath at 11 a.m.
"These last two games will feature last year's two provincial winners in Magrath being the 12-man Tier 4 champion and Taber being the Tier 4 9-man champion," said O'Conor. "Both teams are very excited and looking forward to the two-game finale."
The Taber Senior Rebels rolled to a 63-0 win in Medicine Hat on Oct. 10 over the Hat High junior-varsity team.
Quarterback Kade Lund was 11/13 for 168 yards and four touchdowns to pace the Rebels attack, while Aiden O'Connor hauled in five passed for 67 yards and three touchdowns. Mason Werewka hauled in a 33-yard touchdown pass, as Alex Neudorf led the rushing attack with 10 carries and 94 yards for one score. Even Rabusic rushing for 85 yards and one touchdown, while Brennan Abela also picked up a rushing score. Werewka also scored on an interception returned for six points. Tucker Mouland paced the defence with four tackles, a forced fumble and a fumble recovery. Kyler James chipped in with three stops and a forced fumble, while Nathan Keeping also made three tackles. Noah Mouland recorded an interception and scored a touchdown on a fumble recovery, while Rabusic also scooped up one Hat High fumble.