VAB hopeful for international travel
Posted on October 14, 2020 by Taber Times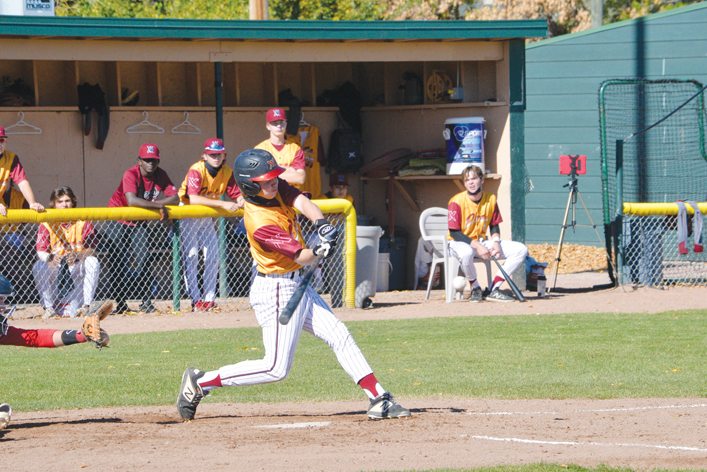 TIMES FILE PHOTO
By Cole Parkinson
Taber Times
cparkinson@tabertimes.com
The Vauxhall Academy of Baseball Jets are hopeful to still head south come spring.
With the board carrying a motion during their August meeting to suspend international travel for the 2020/2021 school year, VAB was hopeful an exception could be made for the program if the U.S/Canada border opened early next year as they approached the board at their regular meeting on Sept. 28.
Before diving into the request, VAB head coach Les McTavish made sure to give thanks for figuring out a way to allow the team to play games this fall after having their 2020 spring season cancelled.
"I first want to say thanks for supporting us in getting going again this year. Four months ago, we didn't no where we would be at. We had a really good meeting with Wilco in June and we tried to set up some protocols and measures where we felt we could open and make sure the players, students and the community safe. We did that and we were successful and we have more Alberta kids than we typically do but we're full bore and we have 22 players and our practice squad is seven players," he said. "There are two baseball academies in Alberta that are directly involved with a school affiliation and we're one of them. The other program only has 10 players currently so they may be on the brink of closing their doors. The rest of the baseball academies are more after school and there are six baseball academies in Alberta. The rest are doing very well but they are more after school programs."
As far as international travel, VAB had been travelling to Las Vegas for the Bishop Gorman Desert Classic high school tournament for 12 years before the trip was cancelled in March 2020 due to the pandemic.
The team also played games in Utah during the Vegas trip and in Montana later in the spring, all of which are on the fence for 2020 with the border being closed and the motion made by the school board.
"What I'm hoping to do today is present a case on our program's behalf for you to possibly reconsider, on an individual basis if the border opens, and if it doesn't open, obviously, we can't travel at all, but if it does open, you would consider supporting us in going somewhere in the U.S. to play baseball. As of right now, with the other programs out there, they are travelling and some of them are travelling currently. Some programs in Ontario are down for three weeks and they'll tour the U.S. and then they'll come back and quarantine for 14 days. We would never look at something like that but we are competitive with other programs and we do feel having the opportunity, if the border opens, to possibly travel to the U.S. is a huge draw for our program," explained McTavish. "In a typical year, we would travel to the U.S. for anywhere between 10 to 14 days total. Mostly in the Salt Lake City/Las Vegas area, that would be our large chunk and then into Montana so Great Falls, Bozeman, Helena, Missoula and that area. I talked to the High School National Federation in the United States and they aren't sure that Vegas, we've been going to Vegas for 14 years, and they don't think high school tournaments will be sanctioned. That would pull it right off the table for us."
As a small school operation, a big worry for VAB is players departing for larger teams that are travelling to the U.S.
"Our worry right now if we don't travel, we're pretty confident our players will find a way to travel with other programs. For example, Team Canada has three trips booked for the world junior team in March, April and May of next year so typically we would have anywhere between two to three players on Team Canada. They would participate in our national program and then they'd have to come back and quarantine if the border was closed. If the border was open, they would go play, come back as usual. If the border does open, and we are unable to travel to the U.S., we'll make the most of it. We'll hopefully travel to Vancouver, or to Ontario or just in Alberta," continued McTavish. "It could possibly create a slow death for us and I hope not. We'll sell every aspect of player development. Whether you're playing in Las Vegas or Calgary, baseball development is baseball development. But there is coaches, colleges and scouts and things that go to Vegas that can't come to Canada."
Earlier this fall, two Jets' players in Jackson Clemett and Anson Gorman departed the team to play in the New Balance Future Stars Series in Boston.
Both players were joined by their parents and have returned to Canada to quarantine before making their way back to Vauxhall.
"Kids are travelling right now, and I don't support it a whole bunch right now but I also get that they want to be baseball professionals and part of that is lots of stuff in the United States," stated McTavish.
While the lack of travel may push away some players, the Jets coaching staff are confident they can still bring top-notch baseball development.
"We travel way less than any other baseball program in Canada but we sell the fact that just because you travel and go on a bus for 30 days, doesn't mean you're going to be a better baseball player. We try to pick and choose our spots," continued McTavish.
Vauxhall High School administration is more than confident in the program moving forward and they base a lot of that on the experience McTavish brings.
"That was the best thing I did was hire Les when we started the baseball program," said Todd Ojala, principal of VHS.
Even with the amount of uncertainty for how the spring season will shape up, VAB have been exploring their options and have developed a few different plans depending on how things shake out.
"We did approach the Toronto Blue Jays. I have a pretty good relationship with president Mark Shapiro. We approached the Blue Jays about trying to host a tournament in March but they (field staff at Rogers Centre) are unionized so they have to work a certain amount of hours. If we could go to Toronto, I'd prefer to go to Toronto. I don't know if it would be any safer but to go to Toronto, you're guaranteed nice weather playing at the Rogers Centre. As much as we love Las Vegas, Toronto may be a better fit but it sounds like the union workers won't allow it as they would be working too many hours a day. That would be Plan A in my world. We will try for Vancouver, assuming we can travel, and right now we can't even play in B.C. but assuming we get to Stage 3 as a province and we are able to travel outside of our health region, Vancouver would be good. Though Vancouver isn't very good in April, it's pretty rainy. May and June it is good," said McTavish.
With Vancouver an option if the border remains closed, McTavish also highlighted the fact playing only within Alberta may be the only option if all things don't fall into place.
"They just want the opportunity for their kids," added Ojala. "This is a chance for them to be seen when they go to the States."
The pair highlighted mid-January as the latest possible date to know if travelling to the States by bus was possible.