League play on horizon for Taber Minor Hockey
Posted on October 14, 2020 by Taber Times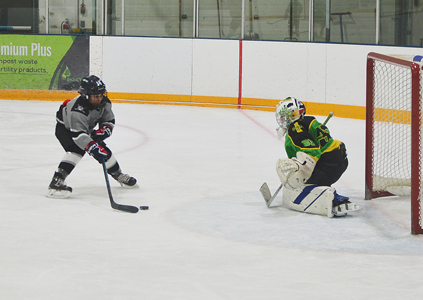 TIMES FILE PHOTO
By Garrett Simmons
For The Taber Times
Despite uncertainties surrounding exactly what pandemic hockey will look like this season, registration numbers are up for Taber Minor Hockey.
Dan Remfert, president of minor hockey, attributes the jump in numbers to the fact Taber has a great program, along with a few other factors.
"I would say it's also because we joined associations with Vauxhall, which has really been a big thing," said Remfert, who added Taber has also taken players from Warner for the 2020/2021 season.
The president also mentioned minor hockey's strong coach mentorship program may also be encouraging players to sign on in Taber, as numbers in the younger age groups are very strong.
"This is the first year in a while where we've had three atom teams, and we're about on our way to two midget teams," said Remfert, who added Taber will likely feature oversized teams at the peewee and bantam levels.
Taber has become a bit of a hub for small town hockey in southern Alberta, and with more players hitting the ice, there have been a few hiccups, as Remfert added ice is at a premium, especially with the small ice out of commission.
"With 14 teams and three Suns teams, it's a very stressful job to be our ice scheduler," he said. "As our association is getting bigger, two ice surfaces is a necessity."
The large ice surface will see a ton of use early in the season, as minor hockey teams look to wrap up tryouts and hit the ice for inter-squad games and practices. As for the start of regular games, that is still a bit up in the air.
"Due to COVID-19, the Central Alberta Hockey League has gotten off to the slower start," said Remfert, who added exhibition games may get going after about Oct. 23, with regular-season play set for November.
As for provincials in 2021, Remfert added the atom-level teams will not be participating this year, while provincial qualification for peewee, bantam and midget will run through the CAHL. Teams that win their tier will qualify, and if there are multiple league winners in the same tier, those teams will compete for the right to go to provincials.
But no matter how you look at the 2020/2021 season, the pandemic will mean things will look a little different.
"It is a developmental year," said Remfert.
Things will also look different off the ice, as Remfert added minor hockey's typical fundraising avenues, such as in-game 50/50 draws and home tournaments, will be severely hampered this year.
"We're really leaning on some different kinds of fundraising due to COVID-19 impacting our traditional fundraising," said Remfert, who added minor hockey has experienced a tremendous amount of support over the years from its home tournaments.
More details on fundraising for the new season will be made available at http://www.taberminorhockey.com.