Taber senior Rebels triumph in junior-varsity play
Posted on October 7, 2020 by Taber Times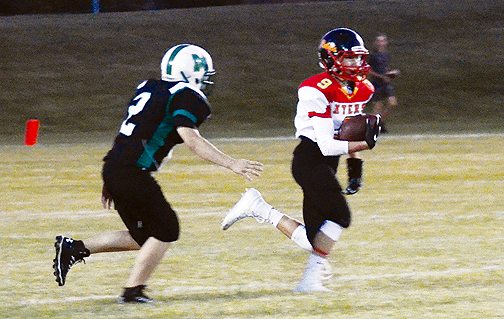 TIMES FILE PHOTO
The Taber senior Rebels football team scored early and often to run away with a convincing win Friday night over the Medicine Hat High School junior-varsity team.
But according to Jason Jensen, head football coach for the Rebels, just the fact his team was able to hit the field, under the lights in Taber, was a major accomplishment.
"With everything going on this fall, I was just happy we were able to get something going with football, even if it was a scrimmage under modified rules," he said. "Initially, we expected to just get together to practice, under the protocols set out by Football Alberta and AHS. But after about a week of activity, I was approached by coach Skelton out of Medicine Hat, as he was looking for some activity for one of the mini-cohorts they have going."
Under the Football Alberta protocol, if teams limit themselves to a mini-cohort of 25 or less, they can play another team that is following the same restrictions. The Rebels, with 22 players on the roster, fit that description perfectly.
And once those players hit the field Friday night at Ken McDonald Memorial Sports Park, everything came together exactly how Jensen hoped it would.
"We managed to get in 11 practices over four weeks, and while I thought this team had a ton of talent and potential, you're never really sure until you get out on the field against another team," he said. "Man, did these players prove my suspicions correct. It took us the first couple of plays to get the jitters out, but then we started to roll."
Taber was solid on both sides of the ball, as the head coach added his defence helped set the tone for a dominant evening.
"Defensively, we were lights out good," said Jensen. "The line was a holy terror, no matter who we rotated in, consistently getting into the backfield and stopping them for loss. Our secondary was about the same, locking down their passing attack and forcing them to continually stall out."
Statistically, Tucker Mouland lead the way with four tackles, plus a sack. Sloan Dube, Kyler James, Evan Rabusic and Sloan Dube each contributed three tackles. In the backfield, Carsen Reid, Mason Werewka, and Noah Mouland each had an interception, as Mouland also contributed with a sack.
"What's most impressive to me as a coach though, is that 16 different players registered tackles," said Jensen. "That proves just what kind of team effort we had going on out there."
On the offensive side of the ball, the Rebels put up 12 touchdowns, led by a three-TD performance by running back Alex Neudorf, who racked up 133 yards on eight attempts. Kade Lund also threw for three scores, as the Grade 11 quarterback finished 10/18 for 224 yards.
Reid, Rabusic, Lund, Noah Mouland, Aiden O'Connor and Brennan Abela all added rushing touchdowns, as Taber finished with 331 yards on the ground.
O'Connor, Abela, Werewka and Logan Porter hauled in touchdown passes, as Werewka went 2/4 for 41 yards and a touchdown pass when he was under centre. Overall, the Rebels finished with 265 passing yards.
"Overall, I was pretty satisfied with how the boys performed," said Jensen. "We made sure every player got a lot of playing time, and it seemed that no matter who we put in there, they stepped up to contribute. While this was only an exhibition scrimmage, we can certainly see the type of talent we have to work with, and they proved how determined they are to succeed."
The Rebels are now set for a 3 p.m. game on Saturday in Medicine Hat for the second part of a back to back.
"I'm looking forward to seeing how Medicine Hat adjusts after this, as I'm sure they'll be looking to get some revenge next weekend," said Jensen. "Either way, our boys seem up to the task."