Southern Alberta curlers included in provincial Team of the Year Award
Posted on September 23, 2020 by Taber Times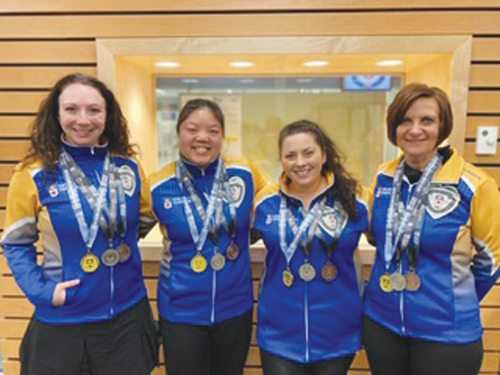 CURLING SUCCESS: Team Dupont consisting of Avice DeKelver (left to right), Kendra Nakagama, Samantha Davies and Nanette Dupont display the three medals they won at Nationals. The team was recognized recently with Curling Alberta's Team of the Year Award. Photo courtesy of Avice DeKelver
By Justin Seward
Alta Newspaper Group – Bow Island
Lethbridge Curling Club's Team Dupont consisting of Redcliff players Samantha Davies (third) and Avice DeKelver (lead), Taber skip Nanette Dupont and Kendra Nakagama (second) were provincially recognized with Curling Alberta's 2020 Team of the Year Award recently.
Davies' husband, Travis, nominated the team.
"He saw online that the Curling Alberta nominations had opened and he was just browsing through to see what the requirements were for nominating a team," said Davies.
"It just said outstanding achievements, sportsmanship and so forth. He just took upon himself to send in a little nomination email."
Team Dupont was awarded over a surprise Zoom call.
"(A) Curling Alberta person had emailed the third (Davies) on our team and asked us if we would be interested in doing a Zoom call to talk about what curling meant to us and kind of to help promote the upcoming season," said DeKelver. "We thought 'OK we can do that.' Then we got on the Zoom call just over two weeks ago. When I first logged on, one of my best friends' faces was on the screen and I thought 'What is going on, did I enter the wrong room?' And then sure enough there were 30 people on this call and then they surprised us and told us that we've been nominated and received the Team of the Year from Curling Alberta, which was just crazy."
DeKelver felt honored to win the award.
"It's a huge honor because Alberta is such a curling-rich province," said DeKelver.
"Like to be recognized is wonderful and very humbling. It also shows hard work pays off because we've put in the time and effort, we made sacrifices and made a commitment to each other to kind of go as far as we could with this."
For Davies, it was a nice way to end off a great five years.
"It was fantastic," said Davies. "It was a very nice cap-off ending to a wild five-year ride. It was wonderful."
Davies says the award gives the team more notice in the province.
"Curling Alberta is for all teams in Alberta," said Davies. "It's for everybody from your grass roots, starting out, small town curlers, all the way up to your high-level curlers that have been to the Olympics. To be included in a group, that vast, in our province, is a complete honor."
The ladies have been together since 2014 and have seen a tremendous amount of success on the curling rink since then as a year later the players were able to win southerns and provincials, which earned them a trip to Nationals in Ottawa where they were able to capture the bronze medal.
As per national curling rules, if you qualify for Nationals one year, you have to sit out a year before a team can qualify for the event again. Team Dupont was able to represent Alberta again in 2017 in Kingston, where the team took home silver. Then in November 2019 the team won Nationals' gold on provincial home soil in Leduc.
DeKelver says the team for this year will sit out a little bit more on the competitive side, citing the last five years have been so curling focused, and it will be nice to focus on different things besides curling.
"For example, Samantha is having a baby, Kendra's family owns a store here in (Lethbridge) that's very popular. She's been taking more of managerial role doing that, "said DeKelver. "For me, I'm a chartered accountant in town. That's very busy. I would say never-say-never, but for this year, we're going to step back for now."