Beckie diamond completes quad at KMMSC
Posted on September 23, 2020 by Taber Times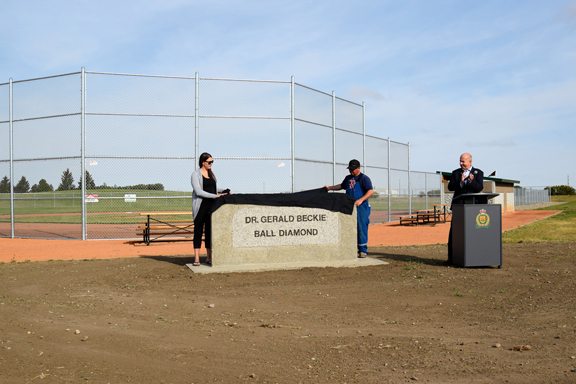 TIMES FILE PHOTO
By Trevor Busch
Taber Times
tbusch@tabertimes.com
After a summer of work, Ken McDonald Memorial Sports Complex (KMMSC) finally has a fourth ball diamond to complete a quad.
"Our completion date was August 15, but we were complete at the end of July," said Rick Popadynetz, project manager with the Baseball – Softball Enhancement Society, the organization which spearheaded the effort in conjunction with local municipalities, service clubs and volunteers. "Our organization put over 400 man hours of work in. We were under budget by over $6,000. But with that budget we also did work to the other two diamonds and repaired the soil around the infields. There was some deep shale — 12 to 16 inches — so we took out the old shale, put in a clay, and put new shale on all three of the diamonds. So our society was able to do more work than expected with the budget we had been given, and we did come in under budget."
On Sept. 12, officials and dignitaries gathered for a grand opening of the new diamond, which has been named in honour of Dr. Gerald Beckie.
The project got off to a rocky start in early 2019 after friction arose between the society and the Town of Taber over organizational details, the society's lack of official status, and oversight of funds.
Following closed session discussion in May 2019, town council directed administration to enter into a construction license agreement with the Kinsmen Club of Taber to grant fund a fourth ball diamond at the Ken McDonald Memorial Sports Complex, and to "mirror the existing west diamond" at KMMSC. In a separate follow-up motion, council granted funds of $150,000 to the Kinsmen Club of Taber for completion of the project.
"The Kinsmen did a great job of helping us with all the finances and coming in last minute," said Popadynetz.
The pandemic threw a wrench in the works for construction in 2020.
"Obviously at the start of this year, COVID-19 was a huge implication, so we had to reconfigure how we were going to do work and what kinds of groups we could work in. Basically contractors could only show up with a limited amount of people, but we were still able to do the work with all the people that we could."
With a quad of diamonds at the facility, this should make the sports complex more attractive for potential tournaments.
"It's now available for a 12 team tournament — before it was only able to hold a nine team tournament — so it's actually going to bring in more revenue to the community by bringing in more people. That's the big thing. Finish the facility so we can hold a 12 team tournament instead of the nine teams," said Popadynetz.
With the diamond now complete, the society has its sights set on further improvements.
"Phase 2 and 3, a bathroom facility out at Ken McDonald," said Popadynetz. "We really want to put some trees in still this year, we're hoping to do that. There's no trees, there's no shade, it's really hot out there, there's no reprieve — it's like the desert. But in the meantime, we're going to take the win. It took us four years to get this to fruition. We're really happy about naming it after Dr. Gerald Beckie."
Popadynetz took time to single out all those who were involved in the project and helped get it over the finish line.
"I just want to say thanks to all of our subcontractors, everybody that has come, everybody that was involved gave in-kind-donations — so we were able to come in under budget — and working with the people that we did there, everyone was fantastic. Especially the recreation guys, ground floor, and the MD of Taber — we couldn't have done it without the ground floor guys that were doing hands on work. Those guys, with the knowledge that they gave me and the stuff that they provided, were just hands down awesome."