Vauxhall Academy of Baseball Jets hit the field for fall 2020 season
Posted on September 16, 2020 by Taber Times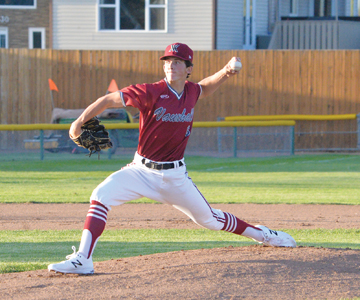 TIMES FILE PHOTO
By Cole Parkinson
Taber Times
cparkinson@tabertimes.com
While the spring season saw cancellation due to the COVID-19 pandemic, the Vauxhall Jets have begun their fall season with plenty of additional safety measures for players and coaches.
A typical fall season for the Jets sees players playing not only in Vauxhall and surrounding areas, but some of the veterans travel to Toronto for the Tournament 12, which has seen cancellation.
Despite those setbacks, the team has still managed to schedule some games for the fall season.
"We're kind of taking it week by week. We're trying to follow all of the AHS protocols so we're only playing games within the southern Alberta health region, which basically means we can play PBA in Lethbridge. We're trying to see how things go and make sure we can take the necessary steps for everyone on the field to stay safe. At the same time, keep in mind a lot of players haven't played a lot so we have to take it slow as we get going," explained Jets head coach Les McTavish. "It's been good we played four games last week and we had four this (past) weekend. We had a Team Canada coach come in to watch our guys. There have been some cool opportunities that have come out of it. A couple of pro scouts (came in) on Sunday so we're making the best of it. So far so good."
While 2020 has been an odd season from spring to fall for VAB, the team has adapted as best as they can under the circumstances.
Even though games outside of southern Alberta have been limited for the Jets, they are still expecting to see plenty of opportunities for players looking to continue their baseball careers past high school.
"PBA has some good prospects, and one exceptional pitcher, so that helps attract. We have some guys that are pretty attractive to scouts as well. Ultimately, it's a small world now between social media, video and a lot of college placement is done through networking, video, analytics and those type of things. Team Canada, Greg Hamilton, will typically come out once or twice a year anyways. Normally we would have the Tournament 12 where he would see all of the best players but this year we don't have the Tournament 12," continued McTavish.
Adaptation has been needed for players who have been named to the roster, but the coaching staff has tried to treat the year the same as any other year.
Scenarios are different for VAB as they continue their fall schedule, but the coaching staff is trying to make sure their players don't take for granted taking the field every day.
"It's been a pretty typical year (coaching-wise). I'll tell you what, if there's such a thing as feeling revitalized, I don't think we take as much for granted. You try not to give away days or take off-days. You try to get everything you can out of it. It's funny, our opening game on (Sept. 5), we had parents and grandparents taking pictures like it was the last game of the season in case there was no more," said McTavish with a laugh. "We're just happy to be out there and grateful Horizon School Division has allowed us to develop. A testament to our parents and the players, they are taking all of the necessary steps to remain safe and they're playing with masks on. There are some things they've had to adapt to and they've been great. They've done everything we've asked and we appreciate that."
The Jets saw several Grade 12 players depart after the cancellation of the spring season, but 10 new players joined the roster for the new campaign.
While there was every reason to expect some growing pains for the new players with them joining a new team amid a pandemic, the coaching staff was more than pleased with how the new recruits performed in the first several games.
"Opening weekend, if there were any big surprises, and without naming a bunch of names, it was a lot of our new guys. We had some new guys throw exceptionally well on the mound. Arguably our best hitter was a new player. So it was refreshing and it was great. They were nervous but they performed really well. I'm proud of all of the new guys and they fit in really well. And hats off to the veterans for making them feel comfortable in the transition," continued McTavish.
This year's roster sees two Grade 10s — Cardel Dick (Abbotsford, B.C.) and Kyle Yip (Calgary, Alta.).
Grade 11 players include Kayden Hleucka (Medicine Hat, Alta.), Jared Bendfeld (Daysland, Alta.), David Stewart (Lethbridge, Alta.), Adam Vulcano (Cloverdale, B.C.). Frew Lenehan (Fredricton, N.B.), and Karter Andersen (Calgary, Alta.).
Grade 12 players for the Jets are Joshua Clark (Martensville, Sask.), Aaron Vulcano (Cloverdale, B.C.), Jackson Clemett (Calgary, Alta.), Hunter Porter (Parkland County, Alta.), Kalem Haney (Lethbridge, Alta.), Anson McGorman (Parksville, B.C.), Shaye McTavish (Lethbridge, Alta.), Dallas Cummins (Vauxhall, Alta.), Jaxon Filipenko (Lethbridge, Alta.), Tyler Boudreau (Middle Sackville, N.S.), Jack Mount (Ottawa, Ont.), Cole Alguire (Calgary, Alta.), Mason Nordli (Nanaimo, B.C.) and Nicholas Backstrom (Sundre, Alta.).
The coaching staff sees McTavish and Jim Kotkas back for their 15th year, and Joel Blake for the ninth while Josh Burgmann is back for his second consecutive.
VAB support staff includes Josh Hoetmer (mental health coach, Jeff Krushell (strength and conditioning coach), Alex Sirard (strength and conditioning assistant), Greg Morrison (sports therapist), Anna Bueckert (cook), Lynda Unruh (administration) and Jimmy and Lisa Vulcano (residence managers).