Huge field of players for Taber Junior Open
Posted on August 19, 2020 by Taber Times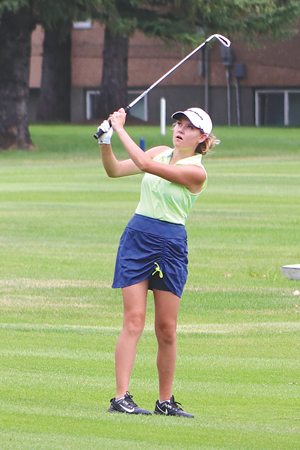 TIMES PHOTO SUBMITTED BY THE TABER GOLF CLUB
By Greg Price
Taber Golf Club
A change of venue for an established tournament has proven to be a big plus for the Taber Golf Club.
The McLennan Ross Junior Tour shifted 50 kilometres east last Wednesday, making for a big field for the Taber Golf Club's annual junior open.
"There is a bunch of different stops (for the McLennan Ross Junior Tour). This one, we replaced the Henderson Lake Golf Club one that got cancelled. So, they decided to use our junior open instead of Henderson to give the kids in southern Alberta a chance to play," said Kirby Schmitz, club manager with Taber Golf Club.
The McLennan Ross Taber Golf Club Junior Open featured 48 entrants, where the club's junior open has usually hovered around 20 to 30 participants in years past.
"Our junior open has been running pretty much every year, but it has been much smaller, with mainly local kids. This year we have a lot of out-of-town kids because Glen Ross joined up as an advertising force. Numbers are up significantly," said Schmitz. "We have kids that have come from Calgary, Lethbridge and all over southern Alberta actually. There's some pretty good competition this year."
Kids enjoyed a good round of golf with some solid weather in the high teens and light breeze with its 10 a.m. start. The McLennan Ross Taber Golf Club Junior Open was powered not only by staff at the Taber Golf Club, but an array of parent volunteers and solid sponsorship as well.
"This wouldn't have happened without the volunteers and sponsorship. We had a lot of parent volunteers come in to help," said Schmitz. "It's been fantastic and we have a great community for that. Every kid got a door prize when they come and we are hoping every kid gets a little something at the end of the day. We do burgers and fries with a little meal for them at the end of the day with some social distancing of course."
The impressive field has showcased how those who are passionate about the links have flocked to the local golf course, since the provincial government allowed golf courses to re-open from the COVID-19 pandemic back in early May.
"The course has been very busy. In some ways, I think COVID has helped a little bit in showing what people were missing. Soccer, baseball, things like that had been shut down, drawing people to the golf course," said Schmitz. "Some sports had been shut down and you're starting to see them start up now, but more kids are playing golf for sure."
Taber Golf Club instituted a free golf program for kids 14 and under and the results have been significant in trying to attract a new generation of golfers who will hopefully continue on to be paying customers as late teens and adults to increase members.
"That's been for the last two years. It's building a great base for the future for the course. We need members, as our membership is getting older," said Schmitz.