Dog park shelter request pushed to 2021
Posted on August 19, 2020 by Taber Times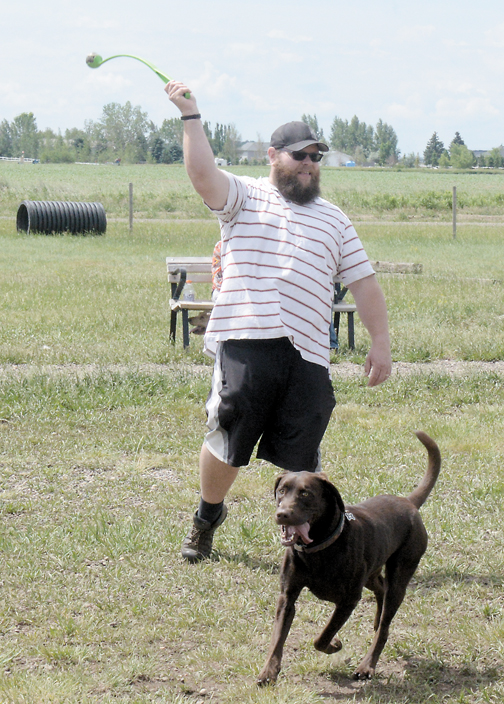 TIMES FILE PHOTO
By Trevor Busch
Taber Times
tbusch@tabertimes.com
The Taber Off-Leash Dog Park won't be getting a shelter for users in 2020 after a request for purchase was recently declined, but town council did open the door to further consideration of the idea in upcoming deliberations for the 2021 budget.
In 2019, Danelle Ulrick fundraised for the replacement of a portion of fence around the Off Leash Dog Park. Ulrick worked with the Kinsmen Club of Taber to install the fence in fall 2019. At the June 2 meeting of the Taber Recreation Board, Ulrick requested support from the board to go to town council with funding requests for a shelter, bench, picnic table and second pet waste system. The board passed a motion requesting she attend a future council meeting to request funding, and develop a plan for utilization of any potential funds that might be allocated.
Ulrick updated her request, and at council's July 20 meeting asked the town to purchase and install a shelter at the dog park in 2020, and if this is unworkable, to include a shelter purchase in the 2021 budget. Ulrick was also interested in seeing the town budget annually for improvements to the dog park. Ulrick had initially planned to fundraise to cover the cost of the shelter, but has been unable to pursue any fundraising due to COVID-19.
"I'm just here to request if the town, maybe see if there's some money laying around — a little bit of money laying around — to put a shelter out at the dog park," said Ulrick. "It's nothing fancy, just something people can use to get out of the sun out there. You've got elderly people out there…that are daily users of the park. It's just something to help make it a useable park."
In her written presentation to council, Ulrick recommended the shelter be positioned in the southwest corner of the dog park.
"To look forward into the future — especially with no Cornfest this year — maybe it might be a great idea to put a little bit of money into that, even just for the shelter this year, because eventually you might want to consider using that for dog agility demonstrations, anything like that for Cornfest. I think of instead of realizing at some point that, 'Oh, shoot, this is a really great area but we don't have money', if you did a little bit now, and a little bit later, at some point it would be a fantastic spot to have…you've got your dog 4-H club in town, you could have potential Cornfest agility, and again just the daily users out there."
The cost of the shelter from UFA would come to $1,993.95 (inclusive of GST), and a note on the invoice suggested delivery of the shelter to the park would be free of charge.
"I see some concerns with this here. There's no benches inside for people to sit on, and I also see plywood, and I'm wondering how long that would stand up in our southern Alberta weather," said Coun. Joe Strojwas. "I'm sure it would curl and wouldn't stand up. I like the idea, and I fully understand what you're doing, but I think if you're going to spend $2,000, you should have a facility that's properly cladded and looked after, because it will just weather and become quite an eyesore in just a couple of years."
Ulrick did have some ideas about how to bring the structure up to the standards proposed by Strojwas, but there is no money available at the present time.
"I do agree, it does need a little bit more work on the exterior. It does come with a metal roof. For seating inside, the ones down in Medicine Hat have just been built — and this is kind of where I got the idea from — a wooden bench, and I'm sure we could get any Joe Handyman or a service club to just go in and build some seating in there. For the cladding on the side, yes ultimately it would be nice to have something done to it further, whether it's hitting up some of the service clubs to see if we can work out a deal with them, or some future fundraising to get that done."
Strojwas confirmed he would not support a motion to approve the purchase for 2020.
"As it sits here right now, I couldn't support the building that we have right here, because it would obviously take another $1,000 – $2,000 to clad it properly and put some benches inside."
"The ask then — it's very minimal, $2,000 — but it would have to probably, I don't know, to put some proper siding on it, would probably be another couple thousand dollars on top of that, and put benches inside. I can't support it — as much as I'd like to be able to help you out — I can't support it in its present state, it would need to be a little more weather resistant."
Coun. Louie Tams, who weighed in on the rec board's June 2 motion, believed more analysis is needed before moving forward.
"The rec board is in favour of this, although after hearing Councillor Strojwas' comments, it needs to be a little bit deeper than we thought about, because you're right if it's just plywood it's going to weather."
Coun. Jack Brewin agreed.
"I'd echo what Councillor Strojwas and Councillor Tams said — I think it's most likely needed out there — but if we're going to do it, we should do it right, it needs to be clad and the flooring in the bottom should either be pea gravel or cement, because you're going to have to worry about that, and it would have to be anchored very well so it doesn't blow away into Saskatchewan in winds. I think this is something we should consider in the future, but not the way it sits."
Mayor Andrew Prokop inquired if the structure might be better suited to the needs if it was constructed by the town.
"We certainly could do it," said CAO Cory Armfelt. "I know timing is always an issue when you choose to do things in the short term. But it's certainly something that town staff could construct."
"I'm not an expert in any building at all, but that to me looks really basic, and seems kind of pricey for that — and maybe I'm out to lunch," replied Prokop. "If there's a way the town could do something, maybe that's something that's a little more fiscally palatable that would be that much easier for us to deal with."
Following discussion on July 20, council voted unanimously to thank Ulrick for her request, and have administration analyze the proposal for future consideration and potential inclusion in the 2021 budget.
According to research completed for the Recreation Master Plan in 2019, 26 per cent of survey respondents utilized the Off Leash Dog Park at least once in the past year, and 10 per cent of survey respondents listed the park as a desired outdoor space.