Hurricanes promise to be ready
Posted on July 15, 2020 by Taber Times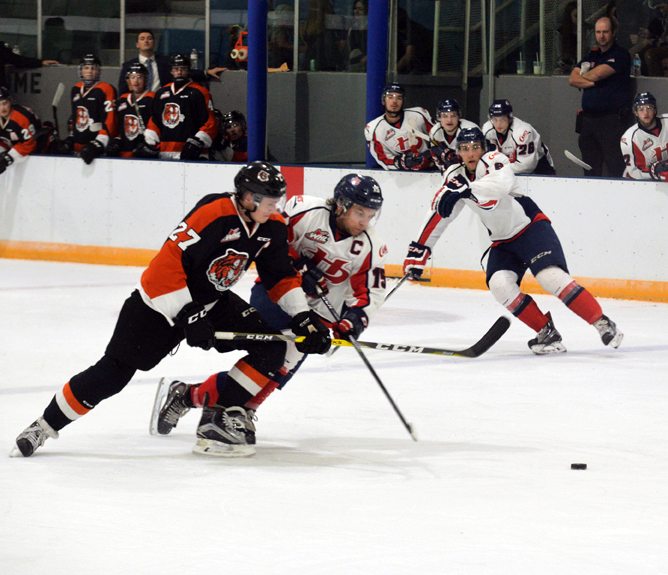 TIMES FILE PHOTO
By Dale Woodard
Alta Newspaper Group – Lethbridge
Say when.
As COVID-19 continues to cast a giant question mark over fall and winter sports, the Western Hockey League nonetheless tabbed Oct. 2 as the puck drop date for the 2020-21 season in an announcement last month.
Whether that date remains in place or gets shuffled as sports across the globe take baby steps forward, Lethbridge Hurricanes general manager Peter Anholt said his team will be ready to hit the ice whenever they're given the word.
As for which high-profile names in Hurricanes' circles may or may not return? That also remains a question mark.
What is certain, however, is the Canes' readiness to go whenever they're tapped on the shoulder.
"We'll be ready whenever we are told we're supposed to go, that's how I'm looking at it," said Anholt. "Training camp might look different than what we normally see and exhibition season might look different depending on when it is, but I think we're going to know more as July continues and at the start of August. I think some answers will come to the forefront."
The majority of last year's roster will also come to the forefront whenever the season starts.
"I really like our group coming back," said Anholt. "Because we were so young last year we return almost everybody. So I think that bodes well for our season coming up and it's exciting."
However, the National Hockey League's projected return to play later this month – and a Stanley Cup final potentially taking place in October – after hitting the pause button on their season back in March due to the pandemic adds more questions in regards to where Canes' forward Dylan Cozens and defenceman Calen Addison will start the season.
Cozens, who led the Hurricanes last season with 38 goals and 85 points in 51 games, was selected seventh overall by the Buffalo Sabres in the 2019 NHL draft.
Addison, who had 10 goals and 52 points in 50 games last season, was originally selected by the Pittsburgh Penguins in the 2018 NHL draft, but his rights were dealt to the Minnesota Wild on Feb. 10 as part of the Jason Zucker deal.
When they weren't in Lethbridge, Cozens and Addison were part of Team Canada which won gold at this year's World Junior Championship in January.
Anholt feels the status of the Wild's American Hockey League affiliate, the Iowa Wild, will play a role in where Addison winds up.
The AHL cancelled the remainder of the 2019-20 season May 11 due to the pandemic and in mid-June formed a Return to Play task force for the 2020-21 season.
"To be honest with you, I haven't had any conversations with Minnesota at this point because basically our feeling was he was going to move on and turn pro," said Anholt of Addison.
"But with different types of situations arising because of this, who knows? Teams are going to have to put some players somewhere and if we're playing and maybe the American League isn't, who knows what happens."
As far as Cozens' address when the puck drops later this fall, that decision will ultimately fall to the team that drafted him.
"The Buffalo Sabres will make that decision for us," said Anholt. "It is a whole different staff there now, other than Adam Mair (player development coach), who we have become very close with. I think for him Buffalo will make that decision, but also Dylan's play will make that decision.
"That's out of our control. We would welcome him with open arms if he happens to come back. But if he doesn't, we'll wish him all the best and move him on, because that's what we're here for."