TCS looking at new facility
Posted on June 17, 2020 by Taber Times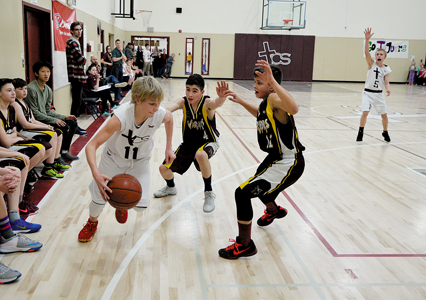 TIMES FILE PHOTO
By Cole Parkinson
Taber Times
cparkinson@tabertimes.com
With Taber Christian School officially transitioning into a high school starting in the 2020-2021 school year, plans to construct a new facility have started.
Next year, those students who attended TCS as Grade 9 students the previous school year will transition to Grade 10 as Taber Christian students.
The following year, the school will transition to Grade 11 and following that, the school will become a full high school with the same Grade 9 students becoming seniors.
"Our school has grown a lot over the years. You can see since 2015 how much we have increased in attendance," explained TCS teacher Rene Angermeier at the Taber Recreation Board's regular meeting on June 4. "I have been at the school for 17 years, I remember when we had 99 students and now we will be at 400 next year. "We're a K-9 school but starting next year we are a high school. Over the last few years, we have been on a high school committee. Next year we are opening in a temporary location but we are hoping in the next year or two to be building. The (proposed) site is just south of Ken Macs and that's what we've been looking at. So that will be a 10-12 or 9-12 depending on what we do without Grade 9s but as of right now it will be 10-12."
Coming this fall, high school students will be found in a temporary home at Taber Christian Reformed Church before transitioning to their own building.
In their proposed plan, the group indicates the facility will have a gym, eight classrooms, kitchen, science lab, library, shop and a multi-purpose area, and it was stated they expect the facility to be in the $3-$5 million range.
With hopes of construction in the near future, they brought their plans to the rec board to seek a partnership with the Town of Taber.
Adding to the fact they hope to have plenty of different recreation options within their facility, the group is confident other schools could also benefit from the addition to the community.
"We are interested in a conversation. We have plans for building and I would say we would love to facilitate any conversation with the town or rec board to see how we could meet the needs of school students, both in Horizon and St. Mary's and St. Pat's. Also community kids and kids who are homeschooled. It would be great to have a facility that is multi-purpose past school hours as well," added Klaas Hoekstra, principal at TCS. "It all comes down to dollars and we understand that. We want to make sure that if there is an opportunity to collaborate with the town, we would love to do that. We anticipate a large student body in the future and we want a large gymnasium. That would, in my mind, be a society cost because that would be our gymnasium. Other schools have gymnasiums but when I look at an indoor sport like indoor soccer, squash or racquetball, it would be great to partner with the town and other schools in town."
"We know there are lots of details that would have to be figured out but we just want to spark that conversation," continued Angermeier. "We are just at the beginning stages of planning and our building committee, they are just getting started. They are looking at some building designs but the site we are looking at is 10 acres. It's right by Ken Mac and is a great location for a school or multi-use facility."
The delegation also explained their position within Horizon School Division.
"Our school is an alternative school, which means we own and operate all of our own buildings. As of right now, building the high school, our society and parents will be paying for it. It's not public money. It's fundraising and private money," stated Angermeier.
While TCS is a Horizon school, they have a different agreement compared to the other schools that aren't alternative.
"Because we are an alternative school, our students are Horizon students. However, in the agreement, we own our building. We take care of the building, custodial staff, lighting, all of that is our responsibility. Within the agreement we have with Horizon, there is some rent money that comes from the government as we are facilitating a building for their students," said Hoekstra.
A motion to accept the presentation and support their initiative to be presented to town council was carried by the rec board.