Town council passes campground bylaw
Posted on June 10, 2020 by Taber Times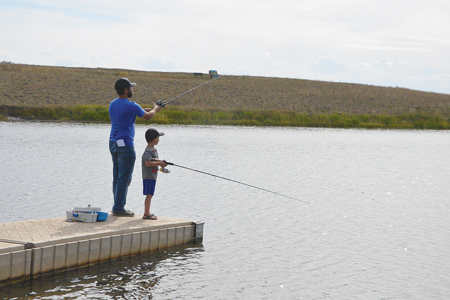 TIMES FILE PHOTO
By Trevor Busch
Taber Times
tbusch@tabertimes.com
With the new Taber Trout Pond Campground now officially open, the municipality has passed a new bylaw governing all aspects of operations and conduct for users.
The municipality now operates two campgrounds, the Trout Pond Campground and the Ken McDonald Memorial Sports Complex Campground. Administration proposed the bylaw to give administration direction on operations as well as to provide bylaw enforcement the ability to enforce the bylaw.
"With the addition of our Trout Pond Campground, we now operate two municipal campgrounds, and we feel that it is important to provide some clear rules and regulations," said recreation director Dawn Phillips at town council's May 25 meeting. "So we're proposing the attached bylaw, which will also give our Taber Police Service the authority to enforce and issue violation tickets as necessary."
Users need to immediately register and remit payment for the period in which they intend to occupy the campsite. Registration may be done in person at the Taber Aquafun Centre (4700 50th Street) or call 403-223-5544 (Ext. 3).
"We're going to be creative at this point in time due to the pool being closed," said Phillips, responding to a concern from Coun. Mark Garner regarding the registration process. "We have our phone forwarded to various staff to take phone calls. So they'll call the aquafun centre, we'll take their information, and then we'll issue invoices. There was some discussion around that, as to whether we should do it that way."
Phillips indicated that in the future, the process was intended to be shifted entirely online, and would not involve any self-registration.
"That's where we're going, so rather than self-regulation — our police service did wonder if we were going that route, I think they're happy we're not — so we would work with the users at this point."
Registrants must be a minimum of 18 years old, and campsites are not available for reservation. Non-registered individuals are supposed to depart the campground area after 11 p.m.
Garner was still concerned about utilizing the current process favoured by administration.
"My observation would be that I think a lot of the people — residents, locals — know where the aquafun centre is, and what that is, but if you're coming from B.C. or out of town, you would say where is this place? The address is there I guess."
Phillips explained signage will be in place at the site to direct visitors.
"We're creating some signage for out there as well, that will have that on there. To register, go to, and it will have the address, or to call."
The town's municipal campgrounds will be open seasonally from May 1 – Oct. 31, weather dependent. Nightly rates will be $26 (KMMSC) and $31 (Taber Trout Pond). Nine sites with 30 AMP service are available.
Quiet time in both campgrounds will be 11 p.m. to 7 a.m. Use of fireworks or explosives is prohibited, as well as discharging paint ball or pellet guns, archery equipment, and firearms. Consumption of alcohol or cannabis is restricted to designated campsites. Campsite use is limited to 14 consecutive days (unless written permission is obtained from the municipality) and any decks, structures or buildings are prohibited. Campsites are limited to eight persons unless they are all members of a single family unit.
Offering or selling any goods or services will not allowed without town approval, and vehicles can only be operated on designated roadways. Off-highway vehicles are also restricted. The speed limit in the campground area is 20 kph. Fires must be confined to the fire pits or portable outdoor fireplaces. Access to water or a fire extinguisher must be present, and fires will not be permitted in winds over 40 kph.
Dogs and cats must be leashed at all times, while horses and other livestock are not allowed without the written permission of the town's CAO. The municipality is also reserving the right to permanently deny entrance to any person into a municipal campground area at their sole discretion. Violation tickets will be served under the Provincial Offences Procedures Act.
The bylaw also includes a number of definitions, and other standardized boilerplate related to littering, destruction of property, and nuisance activities (drunkenness, obscene language, fighting or disorderly conduct, excessively loud music or audio equipment, etc.).
Under the bylaw's Schedule "A" a number of financial penalties are listed for various offences, including littering ($100), destroy vegetation ($100), trespass contrary to sign ($100), vandalism ($250), discharge or fireworks ($150), launching a projectile ($50), discharge of paintball guns ($200), intoxicated ($200), interfere with other's quiet enjoyment ($100), disturbing users of campground ($100), establish an abode ($100), non-payment of camping fees ($50), offer goods for sale without town permit ($150), starting a fire ($250), use of non-permitted fuel ($25), unattended fire ($100), fire during fire ban ($250), dog or cat off leash ($100), horse or livestock in park ($100), drive on land ($100), off-highway vehicle use ($100), exceeding maximum speed limit ($150), fail to register ($50), remain in camp area when closed ($100), unlawfully enter/remain in camp area ($250), and fail to obey lawful order ($250).
Following discussion, council voted unanimously to pass third and final reading of Municipal Campground Bylaw 10-2020.