New curling rink roof on the way
Posted on May 27, 2020 by Taber Times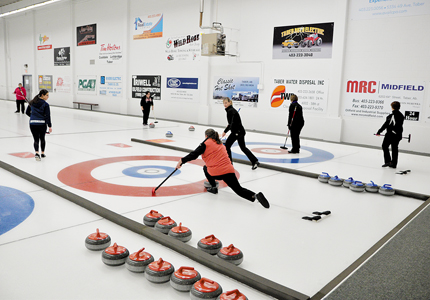 TIMES FILE PHOTO
By Trevor Busch
Taber Times
tbusch@tabertimes.com
After issuing a request for proposals that saw interest from 19 separate contractors, the Town of Taber has awarded the Curling Rink Roof Replacement project to VHL Construction Ltd. for $147,500.
"We had selected a Request for Proposal approach rather than a tender approach for the curling rink roof replacement, and that approach actually paid off, I believe, in our favour by allowing some creativity by the proponents to come up with a novel solution," said CAO Cory Armfelt at town council's May 11 meeting.
Council accepted the Curling Rink Roof Replacement into 2020 capital projects at the March 23 meeting, for an estimated cost of $215,000. Administration created an RFP for the roof replacement with 19 contractors submitting.
"There's a lot of variables within the group obviously, and so when we really had to look down at this, what is going to give us the best value, the best service for the town, and the best price?" said public works director Gary Scherer. "So as we went through the history of everyone, and their products, we decided to select the PVC liner because it's more flexible and more UV resistant, and has a better warranty. I should point out some of these other warranties you can buy longer warranties, but this is what they submitted at no extra cost."
Additional bids included Charlton and Hill (Lethbridge, $163,256), Quality Exteriors (Coaldale, $364,885), Tru-Craft Roofing (Calgary, $223,110), Top Roof and Exteriors (Airdrie, $162,496), Triumph Inc. (Calgary, $147,975), Tremco Roofing and Building Maintenance (Strathmore, $173,036), CCS Contracting Ltd. (Calgary, $296,398), MTM Roofing and Exteriors – IKO (Edmonton, $130,800), MTM Roofing and Exteriors – Firestone (Edmonton, $122,800), Genron Enterprises 2007 Ltd. (Fort McMurray, $244,064), Canterbury Roofing Ltd. (Calgary, $195,000), Lynnwood Roofing Ltd. (Calgary, $222,800), Peddie Roofing and Waterproofing (Calgary, $222,100), Parker Johnson Industries Ltd. (Calgary, $286,393.20), Platos Superior Roofing Ltd. (Medicine Hat, $127,609), Platos Superior Roofing Ltd. (Medicine Hat, $169,784), Freeze Maxwell Roofing (Calgary, $168,595), Flat Roofing Ltd. (Foothills, $127,040), VHL Construction Ltd. (Taber, $192,600), Waterproofing Roofing Ltd. (Lethbridge, $123,950), and Belvedere Roofing Ltd. (Edmonton, $207,260).
"The submissions were difficult to evaluate based on the number of products on the market, costs, best quality product and contractor's references," reads a statement as part of administration's background to the decision. "Administration has reviewed all the contractors and recommends VHL Construction Ltd. as they will provide the best service, value and warranty."
From the above list, five were significantly lower than the local VHL Construction bid selected by council.
"Once we got through our whole evaluation, we really liked the idea that VHL supplied a yearly assessment of the roof — any repairs that came yearly — for 15 years," said Scherer. "No other contractor did that. So that saves us money long run, we don't have to go out and do those inspections, we don't have to call them back, and we don't have to go looking for the contractor — we know where he is. So based off of that, the price was good — it wasn't the lowest price, but we think it's the most value for what you're paying."
Administration did note that VHL's PVC Duro-last roofing membrane would be slippery, but the contractor will supply a hand rail at the HVAC and install slip-resistant pads where town staff would need access to the roof. The roofing material meets all specifications with 24-gauge flashing.
The roof work would carry a 15-year manufacturer's warranty with annual inspections for 15 years from the contractor. The project is expected to take 25 days to complete.
"So when we look at overlaying, it's critical to maximize the life cycle," said Scherer. "The life cycle is up to 30 – 35 years with with a PVC liner. The key is assessing it every year, going out there making sure we're doing our due diligence and repairs, that way you get a longer life cycle out of it."
Following discussion at the May 11 meeting, council voted unanimously to award the Curling Rink Roof Replacement RFP to VHL Construction Ltd. for $147,500 (exclusive of GST) with funds to be allocated from the 2020 capital budget, and provided a $15,000 contingency fund for the project.
In a follow-up after the vote, Mayor Andrew Prokop inquired about the number of contractors that had supplied a bid for the project.
"Just a curious question. I don't recall having that many tenders, ever, for anything. Is that sky high?"
Scherer pointed out the economic conditions related to the global pandemic are having an effect on interest from multiple contractors for municipal projects.
"That is (sky high). But it's a sign of the times. And as you'll see, if the government comes out with more infrastructure money, actually you won't see that. You'll see these prices going up, and up."