New Trout Pond campground opening June 2
Posted on May 20, 2020 by Taber Times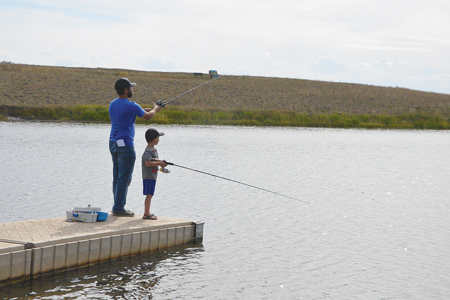 TIMES FILE PHOTO
By Trevor Busch
Taber Times
tbusch@tabertimes.com
With work being finalized this month, the Taber Trout Pond's new campground is now set to open on June 2 after getting council's stamp of approval last week.
The municipality has invested heavily in the redevelopment of the Taber Trout Pond in recent years, including more than half a million dollars in 2019. This included construction of nine RV sites, an access road, electrical with 30 amp sites, irrigated vegetation consisting of 180 trees and shrubs with a variety of species suitable for the area in various stages of growth, a bubbler irrigation system and pump house, and a pre-cast concrete washroom (wheelchair accessible).
"It's all pretty much set up there. They were just finishing off the washroom facility and all the other campsites, with the electrical included, so it should be good to go," said Mayor Andrew Prokop. "They were supposed to finish off this week (May 11-17), or maybe next at the outside. That was sort of the plan. It's due for the next meeting (May 25) as far as exactly how they're going to work the fees and et cetera, what is the procedure to go through that. That's yet to be determined, but it's not too far away. But that's sort of the date that was planned, so hopefully that can carry on and people will have an option to use another campsite facility."
Following closed session discussion on May 11, council voted unanimously to approve the opening of the Ken McDonald Memorial Sports Complex (KMMSC) and Taber Trout Pond campgrounds effective June 2, with COVID-19 precautions in place.
"They'd given us — not just us, but anybody in the province with a private campground, and that's considered private not provincial — they'd given us that option here around May 1, just when they announced the actual AHS procedure," continued Prokop. "That's when they gave the OK to do that with campgrounds. Those have kind of been on our radar to open up slowly, and that's kind of where we're at with that. Again, it's got some guidelines, distance between campsites."
Pandemic restrictions in place at KMMSC will prevent a full utilization of those campsites due to proximity concerns, reports Prokop.
"That one, I think we have to use every other site, because they're a little closer together. But at the Trout Pond, we don't have to be every other site there — there's only nine anyway — but we're far enough apart on each site the way they're developed there to make use of all nine sites there."
"But as I said, Ken McDonald is a little tighter so they have to use every other site there. Out there (Trout Pond), they're currently not to share food or drink, but that's difficult to control. But they are suggesting for visitors to keep it under that 15 max — ideally to stick with their same family or group. They are allowing others to come in and visit, as long as they don't exceed that 15 maximum," said Prokop.
Plans for future development at the site includes potential for growth to accommodate 34 more stalls with 30 amp service, expansion of the bubbler irrigation system to additional camp areas and vegetation, and the irrigation has a been sized to accommodate future needs.
"We're on Stage 3 out of 5. Some of that is yet to be established as far as that goes," said Prokop. "We're looking at potentially expanding the campsites. But again, we're going to monitor the usage and see how everything is going. We had to start somewhere, so that's why we went with the nine to start with, that phase. There's going to be other development out there related to playgrounds, canteen areas, sani-dump, camp kitchens and group areas. That's yet to be finalized, but that's kind of along the lines that we're looking at. We'll be monitoring, step-by-step here, trying to finish what we got on the go and carry on from there."
Earlier in 2020, Prokop had indicated there would be water lines installed out to the park area, and more pathway work was set to be completed. However, there is unlikely to be any ceremony or fanfare attached to the Trout Pond Campground's inaugural opening in 2020.
"That's not a great opening when you can only have 15 there. So I think this will kind of be considered a 'soft' opening, and more than likely some kind of semi-formal type of ribbon cutting or opening (later on). It's not uncommon to have a soft opening with a lot of different kinds of businesses or facilities, so I think that's what we're looking at with the current situation. Obviously we can't control that — we would like to do it at the same time — but it doesn't seem to be feasible here at the moment with restrictions still in place."
In a process which began back in 2018 and was finalized earlier this year, the Town of Taber annexed roughly 900 acres of town-owned land to the west and northwest of its existing boundaries with the Municipal District of Taber, which included the Taber Trout Pond. An annexation is a process where a municipality permanently acquires and incorporates territory of an adjacent non-contiguous municipality.
"The proposed annexation is a logical and contiguous expansion of the town boundary. It reflects the town's ownership of 898 acres of the 957 acres proposed for annexation and the substantial town investment in infrastructure. These investments include the development of the town's landfill, waste transfer station, stormwater outfall structure, the dog park, rodeo grounds, an integral component of the town's walking trail network and development associated with the trout pond," states the town's original notice of annexation submitted to the M.D. in 2018.
One of the town's main arguments in favour of the annexation was consideration of the need for an enhanced law enforcement presence in the area once various recreational projects were finalized.
"It's an expansion of the jurisdiction, of the corporate limits of the Town of Taber. Those areas have come into our responsibility as a police agency," said Chief Graham Abela of the Taber Police Service. "We've been working with other departments in the town, specifically recreation, around the campground that's being built to develop a set of bylaws and rules in relation to the activities of the campground. It will be our responsibility as a police agency to enforce those, and to undertake patrols and whatever investigations might ensue from those locations that are now under the purview of the town."
Abela suggested residents should expect to see seasonal variation in the level of police presence they may encounter in the new areas that have been folded into the town's jurisdiction.
"As the numbers of individuals increase in that areas — it's getting a lot of use now, our patrols have already identified that — I'll go out there quite regularly taking a drive to see what the numbers of people are, and what activities that people are up to. Patrols will be commensurate with the number of people there, for sure. But people have been well behaved. We haven't — to my knowledge — I don't think received one call so far since we've taken jurisdiction there. If we're not getting calls, things are usually pretty good."