VAB coach revisits classic ball games
Posted on April 29, 2020 by Taber Times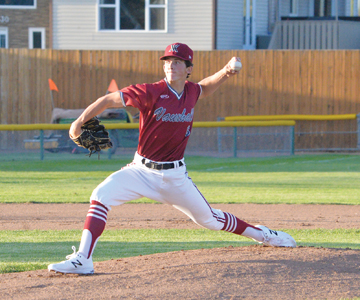 TIMES FILE PHOTO
By Greg Price
Taber Times
gprice@tabertimes.com
The prescription to help flatten the curve of new cases of COVID-19 popping up in Canada has been to enjoy your couch more in self-isolation.
Les McTavish, head coach of the Vauxhall Academy of Baseball, has been catching up on retro Major League Baseball, bringing back fond memories, now that that academy's spring season has been cancelled due to the COVID pandemic.
"The other morning, I looked forward to Game 4 of the 1992 World Series between the Braves and the Blue Jays. I was young at the time, I was in the 10th grade and so I didn't remember it really well," said McTavish. "I would rewind and I would pause and I'd single things out to our players (in zoom conferences)."
He'd see players like Duane Ward on these old playbacks that he is familiar with now with his international coaching and work with the academy.
There would also be players like Roberto Alomar and Rance Mulliniks — who was the academy's most recent guest of honour at its fund-raising awards dinner.
"And there was Pat Tabler who had a pinch-hit," said McTavish of memories past in the early 1990s that bridged with memories of academy present with Tabler being another recent guest speaker at the academy gala. "I would later meet Kelly Gruber where I had my own thoughts, and then I'd see that tape and say 'wow, Kelly Gruber was a tough player. I always loved Robbie Alomar, but I didn't really know why until I watched these old games. I didn't realize how good he really was. It's fun to see how the game was played compared to now. The emotional side takes over when you watch those old games."
McTavish has had a baseball coaching career that has spanned 22 years at local, provincial and national levels, including having coached over 130 players that have moved on to play professional and/or – USA/Canadian collegiate baseball. Nevertheless, all these classic games McTavish has caught up on has allowed him to see little nuances to the game that he can explore at his own leisure.
"You see that (1992) game. It's tied 2-2. Alomar hits a single, they steal second and then Joe Carter gets walked. Dave Winfield comes up as a four-hole hitter…he's a giant of a man and he bunts," said McTavish of that early '90s baseball that concentrated more on small ball pushing runners over than the power game of today does. "In today's game, they don't do that. Then they walk the next guy, they bring everybody in and Candy Moldonado hits it over their heads. Four, five days earlier I saw Mark McGwire sacrifice bunt for Oakland and I'm thinking huh? My 14-year-old is watching and saying 'I loved the game back then.' Everyone is stealing. I know the Blue Jays win the World Series (in 1992), but I don't know who wins each game. You appreciate it more and it's fun to watch. These stations are shortening it to one hour and I'm playing it back, analyzing and overanalyzing, driving people nuts (family self-isolating)."
McTavish has got to know people like Cito Gaston, Kelly Gruber, Roberto Alomar and Devon White in their retirement years through his Blue Jays and academy connections but these trips McTavish has taken down memory lane during self-isolation in the COVID-19 pandemic has allowed him to see how they played the game in greater detail than when McTavish was a youth. McTavish has dabbled in NHL hockey as well.
"I watched the Oilers/Flames the other night of Game 7 from '86. It was a bloodbath. They were hooking and grabbing and punching. I knew the Flames won it, but I kept watching. You find a new appreciation of the competitiveness."