NAGA-Alberta working with provincial government on opening golf courses
Posted on April 29, 2020 by Taber Times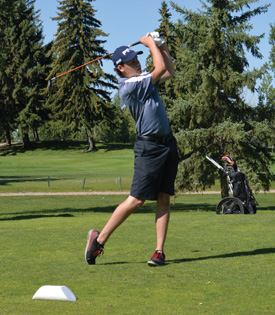 TIMES FILE PHOTO
By Justin Seward
Alta Newspaper Group – Bow Island
After Alberta's Chief Medical Officer of Health Deena Hinshaw deemed golf courses a non-essential service on April 9 through the COVID-19 pandemic, a provincial golf group called National Allied Golf Association-Alberta went to work with the Alberta government in hopes of opening courses for the season very soon.
NAGA-Alberta is formed of representatives from the PGA of Alberta, golf course general managers, owners, superintendents and Alberta Golf.
"We don't frame golf as an essential service at all," said Kevin Smith, director of communications for Alberta Golf. "We consider it a COVID-19 safe outdoor activity that's important for physical health, mental health and the economy. We are working with the government to create an exemption from mandated business closures for golf courses to open."
Smith says all the courses in Alberta have been given a thoughtful document created by "the brightest minds in the golf industry," on how to open safely.
Some of the proposed guidelines at the clubhouse for golfers would include restricting access to the pro shop, limiting access to facility staff and guests to ensure safe distances are clearly marked and enforced at all times. Other rules enforced include restricting access to the area except washrooms, which will be sanitized. Additionally, the frequency of routine cleaning with approved antimicrobial products, sanitization and disinfection of all locations, especially in common and high traffic areas will be implemented immediately.
On the golf course side, there will be no use of ball washing stations throughout the course as well as the removal of all rakes from bunkers and play them as non-hazards, remove benches and no touching of the flag.
Golfers must arrive no earlier than 15 minutes before their tee time and the course is to insure time intervals for tee times are spread out throughout the course.
One player per cart will be regulated, unless players reside together.
For a full list of procedures that golf courses could put into place, golfers can go to: s3.amazonaws.com/golfcanada/app/uploads/albertagolf/production/2020/04/10173635/NAGA-AB-Letter-April-10-2020-Final1.pdf
"Golf is safer than lining up at the grocery store and will return a sense of normalcy," said Smith.
Smith was asked about a possible start date.
"We are working with the Alberta government and are optimistic that the government will follow B.C.'s lead and provide an exemption soon so golf courses can open as a COVID-19 safe outdoor activity," he said. "We all know you can golf and social distance, and getting some exercise and time outdoors might be the best thing we can do for our mental health at present. The golf industry is a $2.5 billion industry in our province, providing 44,000 jobs. We are not lobbying the government for an exemption, rather working with them."
A petition is also being circulated around the province to ask the government to exempt golf courses.
The link is: https://www.change.org/p/alberta-alberta-golf-courses-should-be-deemed-an-essential-service
The petition is not affiliated with NAGA-Alberta.