Taber Golf Club hopes to see season begin sooner than later
Posted on April 22, 2020 by Taber Times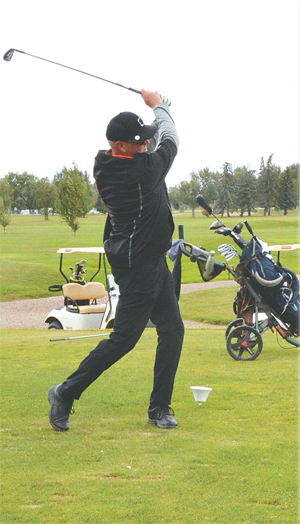 TIMES FILE PHOTO
By Cole Parkinson
Taber Times
cparkinson@tabertimes.com
The COVID-19 pandemic has further delayed the golf season across Alberta.
While courses around the province were hoping and believing they would be able to open for single play with further safety regulations this month when nice weather hit, that wasn't the case as the United Conservative government closed golf courses deeming them non-essential in early April.
"We were very disappointed because we were led to believe for about a month or so that we could open," said Kirby Schmitz, Taber Golf Club manager. "So, basically, the first nice day that came along, the golf course was filling up and that was when they closed the courses. That was disappointing because we spent a lot of money to get ready to go. We hired a bunch of people on and then got the rug pulled out from beneath us at the last moment."
Schmitz also explained workers who were hired for the season haven't been called back to the course since the decision came down.
"They haven't worked since, they haven't been officially laid off, one has because they asked to be, but they basically worked one or two shifts. We're playing it by ear and day by day hoping something will change."
While the Town of Taber didn't make the decision to close their local course, they understood why that was the final result given by the provincial government.
"That was under the AHS (Alberta Health Services) umbrella. The chief medical officer of health came out with a statement, and it's crystal clear that they are not to be open. Again, that's under AHS control — we didn't really have anything to do with it other than some asks and questions about it — but it was really under the AHS guidelines. Initially, they were kind of going with that — with those restrictions — but they were also even at that time they were recommending they be closed, but they weren't requiring them. So that's why it was really good for the chief medical officer to come out with those actual requirements in that regard, so there wasn't any grey areas in that regard, she made it crystal clear what's involved and what's required — all recreation across the province," said Taber Mayor Andrew Prokop.
Since the decision from the provincial government came down, a petition to re-open courses across Alberta has sprung up and it has gained over 45,000 signatures as of Monday morning.
"COVID-19 has changed our way of life with nice weather just around the corner everyone will be asking what is essential and what is non-essential. Activities, where people are in close contact, is obviously dangerous. Golf however already takes social distancing into account. People are separated by 10-15 minutes. In fact, the flow of individuals is more regulated at a golf course then people self-regulating in a grocery store. A golf course can easily take payments online or over the phone, they can easily manage the execution of tee-offs, remotely. Closing beverage services, pro-shops, and restaurants would be a small price to pay for an industry that could be decimated by this pandemic. There are very few activities we can do during this pandemic, golf happens to be one that is safe and manageable," reads the petition started by Calgarian Mark Graham.
As far as the Taber Golf Club is concerned, they hope to see the ban lifted sooner rather than later.
When that day comes, the course is confident they would be open and operating in a short turn around time which could be as soon as the next day.
"We could be open (the very next day). They've kept the superintendent and myself on, we're the only two employees left here and we've also taken fairly large pay cuts for the time being," added Schmitz.
Coming off a tough financial year in 2019, 2020 hasn't been much better.
The course was after $110,000 from the Town of Taber and Municipal District of Taber to purchase new special golf course mowers late last year.
The town committed $55,000 towards the purchases while the M.D. approved $25,000, leaving the club needing another $30,000.
With the course unable to open, the financial impacts could reach a critical point if the delay goes on for several more months.
"It will be huge. If this prolongs, it could cost us our course. We're in a really bad place because like I said, we spent money to get things ready to go. We actually upgraded our pro shop and did a whole bunch of stuff to turn things around from last year because last year wasn't a great year for our course, either. This is really going to affect us, and not only us, the restaurant side, too. With no gatherings, I imagine all summer, the restaurant is going to suffer because a large part of their business is catering the tournaments and stuff like that," continued Schmitz.
Another casualty for this coming golf year will likely be tournaments and league play, both of which the club expects to be cut when golfing is allowed to commence.
"We certainly hope it will be a go but in my opinion, I don't see it happening with all of the announcements with no social gatherings this summer. It looks like it will just be golf. That will definitely affect the course and the restaurant," said Schmitz. "We're just hoping something will change and hoping the Alberta government changes their mind. Like I said, they let us believe, and we were in touch with them many times. I've got letters and emails from them saying that we were full-speed ahead and we could open as long as regulations were in place. We actually had done that and that very day they did that, they closed us."
If you are interested in signing the petition to re-open Alberta golf courses, visit http://www.change.org/p/alberta-alberta-golf-courses-should-be-deemed-an-essential-service.