Current and former Jets see cancelled spring seasons
Posted on April 22, 2020 by Taber Times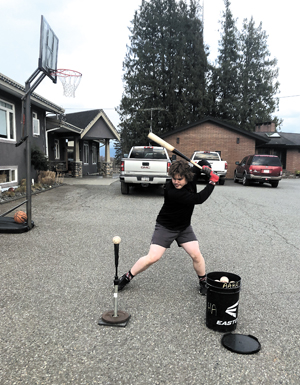 HOME PRACTICE: Carlin Dick, who suited up for the VAB Jets this year, was dissappointed with the cancellation of the 2020 spring season, but is gearing up for college ball this fall. TIMES PHOTO SUBMITTED
By Greg Price
Taber Times
gprice@tabertimes.com
Multi-sport athlete Carlin Dick was flying high with the Vauxhall Academy of Baseball and also his time as a student-athlete at Vauxhall High School.
A star guard with the Vauxhall Vikings boys basketball team, the River Ridge Basketball League co-MVP helped his squad win its first game at 2A zones at Lethbridge College. Throw in just last month, winning the Reno Lizzi Scholarship at the 14th Annual Awards and Scholarship Dinner at the Vauxhall Community Hall, and everything was lining up for the senior to finish off his last spring season with the Jets on a high note.
But then…the world would never be the same again. Reports began trickling in of how the Coronavirus was spreading around the world, while also making its way past Canadian borders. Spread rates got to the point that large gatherings were cancelled including basketball zones. Mere days later, the nation was in lockdown with self-isolation encouraged. Carlin's final diamond time at Jets Stadium and various tournaments in North America was over.
"I feel like it happened super quickly, and it was just a matter of time where it kept getting worse and worse. It was quite a tough week for all the guys where the mood in the dorms and throughout the academy, it wasn't too high," said Dick of that day back in March when the call was made to officially cancel the Jets spring schedule of games. "But what can you do?"
The Jets were supposed to blast off to Las Vegas the following week to kick off its Bishop Gorman Tournament when the call was made to shut down high schools across the province. Players from the Jets came from all over the country, including Nova Scotia, New Brunswick and Ontario. Luckily, the slugging first baseman and outfielder came from Abbotsford, B.C, where he was able to avoid crowded airports and make the trip back home in his car with a 12-hour trek to self-isolate.
"I came home and there was a bit of downtime to think and reflect. The following Monday, living on a 40-acre farm, I was working on the farm (construction) and I've been working ever since," said Dick.
The wide-open spaces of numerous acres allow Dick to self-isolate with his family, while also keeping up his physical training in hopes of a post-secondary season still being in the books in which he secured a scholarship for Canisius College in the fall in Buffalo, New York.
"I got a lot of space to do what needs to be done. I'm working on getting a weight room built in my shop. I can get my physical work done here no problem," said Dick, adding it will be the mental training that will be the hardest as a nation tries to flatten the curve of an ongoing COVID-19 pandemic. "You just have to stay as mentally sharp as you can, whether it's watching videos on baseball or watching and analyzing yourself. We can do mental drills, we have a mental coach in Josh Hoetmer out of Lethbridge who is really good with that kind of stuff, so we can go to him as well. There's quite a few options out there that I have been experimenting with."
Dick has three brothers, one that lives in Toronto, one that lives in Lethbridge and his youngest brother is self-isolating with him in Abbotsford. Carlin or his dad go into town to get groceries once a week, but otherwise are on the acreage the rest of the time, throwing the baseball around, watching movies or doing other family time.
"Do what you can do with what you have. It's not the best circumstances for anyone. Do the best you can do with what you have. It's all that you can really do. Work as hard as you can until you can get back on the field, whenever that is," said Dick. "Hopefully we can all get back into the full swing of things soon."
As much as the COVID-19 pandemic has thrown a curveball to Dick in his baseball life, it has been a 100-mile-per-hour fastball right down the middle, where people need to knock it out of the park in how COVID has reset priorities for people.
"For me these last few weeks, it's just been about appreciating all the things that I have because you never know when it can be taken from you. Especially with this happening, you are expecting to have a great senior year of baseball and high school in general, and it's just taken," said Dick.
"I've found to be more appreciative. The little things are taken for granted and when things like this are happening you begin to see the bigger picture and the little things become big, not to be taken for granted, which often they are. Keep strong, keep self-distancing and hopefully, we can get back to normal as soon as possible," said Dick.
Evan O'Toole graduated from the Vauxhall Academy of Baseball program back in 2019 and currently plays for Iowa Western Reivers in Council Bluffs in post-secondary play when his season came to a screeching halt last month in the COVID-19 lockdown.
"We played a game on a Friday night, and that was the pandemic started to come into the U.S., and on the Monday we were told the season was cancelled and we needed to head home as fast as we can to get back home with our families," said O'Toole, returning home to Bridgewater, Nova Scotia. "I was able to get a flight on the Wednesday of that week."
While in transit, O'Toole notched phenomena in the airport he noted you will never see again with the travelling populous on edge.
"No one was getting close to anyone. No one was wanting to talk to people. Everyone was cautious being on pins and needles," said O'Toole.
Those who are members of VAB or post-secondary baseball programs have their schedules earmarked down to the minute. COVID-19 lockdown throws that concept out the window as athletes have to learn how to adapt.
"It's really tough. You get into a routine when you are at school, then you are working out, everything seems to flow nicely with your day," said O'Toole. "Then you get home, you're self-isolated. You are stuck in your house and you have to deal with what's in your house. It is what it is and you try and make the best of it. But, it's hard to keep going and stay focused."
It is that mental game that O'Toole is seeing as the biggest jump from elite high school to college baseball.
"There's a lot of similarities. Guys are just older, stronger and faster. It kind of turns into a mental game, approaching the game in little ways that make differences," said O'Toole.
O'Toole is self-isolating with a family that features a 21-year-old brother and 14-year-old sister.
"It's nice to come back and see your family. It's the best place to be at this time. We help each other with our schooling and athletics," said O'Toole.
O'Toole loved his time at the Vauxhall academy with the bonds and friendships he made as an outfielder and pitcher.
"It's the bonds that you make, not only with your teammates but also the people in Vauxhall and the high school," said O'Toole, adding he hopes current players are keeping their chins up and battling through the COVID-19 pandemic as best as they can. "Being stuck in No Man's Land, control what you can control and try and make the best of a bad situation we are in. There's definitely a right way you can take care of yourself mentally during this time. It's not always fun, but it's just what you have to do to keep you and the people