Taber Curling Club roof reaching critical juncture
Posted on April 8, 2020 by Taber Times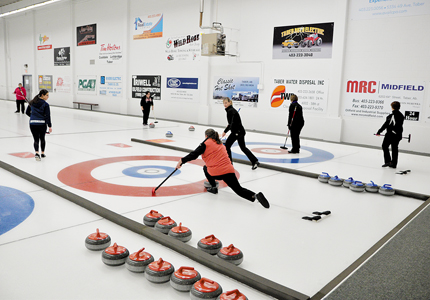 TIMES FILE PHOTO
By Trevor Busch
Taber Times
tbusch@tabertimes.com
With a lifespan now estimated in months rather than years, the Taber Curling Rink's deteriorating roof has been slated for a critical replacement.
The curling rink roof is in poor condition with a life expectancy between zero and one year according to a recent Roof Evaluation Report completed by Swan Roofing Consultants. This item was budgeted in the 2020 capital budget for $405,000, but was subsequently cut. Building maintenance received quotes to have the roof replaced and determined the job can be completed with a budget of $215,000.
According to Swan Roofing's report, the age of the existing roof is unknown but is estimated at 30-plus years and "should be redone in the near future." Interestingly, the report estimated the cost of replacement at between $250,000 – $270,000.
"Our building maintenance department also worked with some contractors to get alternative solutions to do the roof repairs, or roof replacement, and found that the project could be completed for $215,000," said recreation director Dawn Phillips at town council's March 23 meeting. "Our concern is if we do leave the project not attended, that we will end up with further damages from leaving it."
Coun. Jack Brewin asked about what the scope of the project would be should council sign off in 2020.
"Currently you're looking at a complete replacement, because the tar and gravel is just so thin it's actually getting down to the fibre layers down below," said public works director Gary Scherer. "So when it rains, or the snow melts, it's actually mushy underneath…therefore the water is penetrating the layers below. The main area of concerns is around the HVAC unit, where it's just completely gone."
Coun. Joe Strojwas suggested some roofing companies recommend leaving the pre-existing tar and gravel surface in place prior to rehabilitation, but Scherer was unconvinced of the efficacy.
"The last thing we would like to do is leave that water in place. If it is getting in there, we really don't want to trap that water between two sets of layers, because then we're causing mold and mildew. So we want to replace that and ensure that water is not penetrating any other layers below it."
Council voted unanimously to include the Taber Curling Rink roof replacement at a cost of $215,000 in the 2020 capital budget, with $117,080 allocated from the carry-forward budget from the Taber Community Centre Exterior Upgrade, and the remaining $97,920 to be funded from capital reserves.