Spring of swing silenced due to COVID
Posted on April 8, 2020 by Taber Times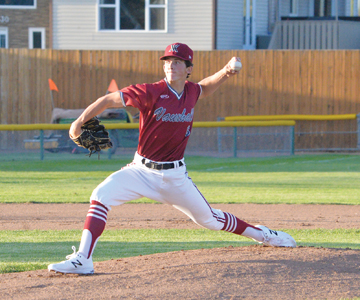 TIMES FILE PHOTO
By Greg Price
Taber Times
gprice@tabertimes.com
Just as it is the game of baseball for the Vauxhall Academy of Baseball Jets, it is also the game of life when a worldwide pandemic of COVID-19 grips the very foundations of the sport.
The Vauxhall Academy of Baseball shut down its spring season in accordance with self-isolation in trying to flatten the curve in the spread of the COVID-19 virus in North America.
"It was tough for the seniors. I'm certainly not making light of it with so many people affected by this more than we are, but we have all these teenage boys who work for six to eight months getting ready to go down to the United States for the next three or four months to compete and prove themselves to earn scholarships and then it's gone," said Jets head coach Les McTavish. "We were just over a week away from leaving to the U.S. to compete. When you have that raw emotion…there were a lot of players who were extremely emotional. Our program is so unique, they go to school together, they live together, they play baseball together. Twenty four hours a day they spend together. There is so much time invested in it, and to have the rug pulled out from underneath you so quickly and abruptly, the kids were certainly emotional and it made for a tough week in sending all the kid home."
Plenty of kids had already secured post-secondary scholarships to play baseball in the United States prior to the North America lockdown from COVID-19, but some had not, making it tough on some in securing the next step in their educational careers.
"The majority of our players had already signed a letter of intent with a certain school. But, we had three players who hadn't signed a letter of intent, and had an opportunity, but wanted to prove themselves in the spring and never had that chance. They are really good players that are more than capable of going on to play college baseball," said McTavish. "The hard part with the whole college environment, with our Grade 12s, hopefully we can find each of them a place and that's our goal and our primary objective right now. Because now the colleges have had to re-set and expand rosters and expand budgets to be able to absorb a larger roster size. They have their seniors to worry about as well. The hard part is even with the Grade 11s in the colleges we have talked to, the 2021 graduates will have even more of a challenge because there is going to be such a bottleneck in the college world."
But while there have certainly been challenges for player with the VAB due to the Coronavirus in chasing their baseball dreams, McTavish added the players can also use it as an opportunity to grow.
"Maybe there is some opportunity too for the kids who need to get stronger. This is your opportunity. The ball is in your court. For kids who need to work on their vision, there is your shot to work on vision. For the kids who need to work on their mental game, this is a chance to work on that. We are trying our best to help the kids, but it's hard because these parents and kids have spent several years trying to get to this point, but then it gets pulled."
The Vauxhall Academy of Baseball is all about structure, devoting ample amounts of time in the classroom, weight room, indoor training, outdoor practices and games, and looking after their nutrition in defined blocks of time, only to now be left to their own devices back home across Canada to keep their dedication up.
"What has always made our program so unique is they push each other in every aspect of their life. Now, there is so much time, and that time can be a benefit, but it can also be a determinant and a negative at times," said McTavish. "I try and send a message every day or two to all our players to show what they can do with our strength coach. We are trying to work through some of those things. But, now I'm getting to the point where I'm worrying about the mental part of things. It's one thing to get into self-isolation, but once you start to realize it might be for a long time, you don't want to lose everything you worked so hard for."
Luckily, the Vauxhall Academy of Baseball and Vauxhall High School have people on staff that can deal with the more mental aspects of COVID-19 self isolation that is affecting young baseball players' careers.
"The great thing about Vauxhall is our academic side is outstanding. We have a great staff on the school side which talks with them, texts with them and Zooms with them. They do all these great things and I'm so happy we are in a small school and a small environment to take care of that. It adds normalcy to what they are doing," said McTavish. "We are still just three or four weeks into this. It's still really fresh and raw. My biggest worry is a month from now, just after that Easter break when the snow melts and they don't know if they're not going to play again until September. That's where the mental support needs to come in."
The Vauxhall Academy of Baseball has assistant coaches in Joel Blake and Jim Kotkas who are versed in the psychological needs of teenagers.
"Joel Blake is a counselor at the school and is well trained in that field and adds the baseball component. Jimmy Kotkas is a psychology major and is really good on that side too. We can lean on them," said McTavish. "It's for the guys who don't have (post-secondary) school yet, or for the guys coming back. Everyone is a little different about their worries. Maybe it's an only child where now they are at home by themselves and they miss that team aspect. Everyone is affected by this and are affected a lot worse than we are, but these are still 16 and 17 year-old boys trying to chase their dreams."
It's also a loss of some childhood innocence as well in letting kids simply be kids. One of the players on the team noted to McTavish all the camaraderie that can happen in the spring road trips is now gone.
"He said 'do you know we never got to spend a night in the hotels as a team?' We had 21 nights in hotels over the next two and a half months, and when you think about it that way, those are the memories and experiences that you cherish," said McTavish. "The baseball is great, playing those games. But it's all that team stuff on the road, be it in Las Vegas, in Kamloops, in Bozeman, in Helena…you just feel terrible for the kids that they miss that."
McTavish is hoping his Vauxhall Academy of Baseball players will take this unprecedented occurrence in the world for some fortitude in coming back stronger than ever and appreciating the things that were maybe overlooked at times in all the blessings people have in living in North America.
"Despite all the negatives, hopefully there will be some opportunities. Hopefully there are some positives that can come out of this. Some kids are going to get a whole lot stronger if they really want to be and learn how to be self motivators. Maybe we are going to have some kids come back with some new leadership skills, motivation and determination carrying forward," said McTavish. "All of us, not just the baseball coaches and players, all of us maybe won't take as many things for granted as we once did. I really feel like we all will in society, we are going to come out of this on the backside with a newfound appreciation of the little things."