Sheep club crowns winners
Posted on March 25, 2020 by Taber Times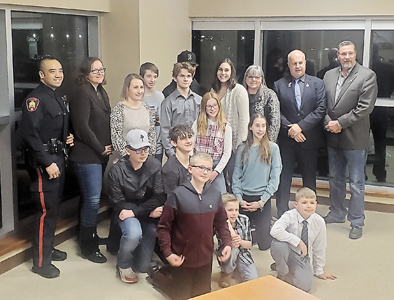 CLUB KIDS: There was plenty of helping hands at the annual speak-offs for the New Ewe Sheep Club, which netted first and second-place finishes. TIMES PHOTO SUBMITTED BY ALEXANDER WIEBE
By Alexander Wiebe
New Ewe Sheep Club Reporter
The New Ewe Sheep Club has hosted and participated in some recent events.
We had the annual speak-offs on Feb. 6 at Western Tractor. We had a presentation, and the rest were speeches.
The first and second place speech winners were: Senior – Rachel Gouw and Byron Kress; Intermediate – Kayden Kress and Cameron Gouw; Junior – Lucas Kerkhoff and Jayden Benson. On March 9, there was a district tour of the new Cattle Clinic, which included bowling, pizza, and pop afterward.
Depending on how the Coronavirus situation develops, the club may be going to pick out some sheep, of which they will work with for April and May. After that there would be a district show and sale on May 29 and 30. If anybody is interested in going, various 4-H clubs would be selling sheep and cattle there.
The event would be hosted at the Agri-Plex in Taber, Alberta. For every member there may be summer camps coming up, or Snowfest next year.