Peewee Suns rise one last time
Posted on March 19, 2020 by Taber Times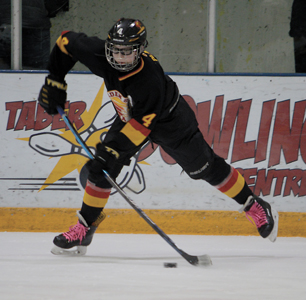 TIMES FILE PHOTO
By Greg Price
Taber Times
gprice@tabertimes.com
Part way through the Taber peewee "AA" Golden Suns' Game One of the South Central Alberta Hockey League Championship against the Olds Grizzlys, both teams were informed there would not be a league champ officially crowned in the fallout of the Coronavirus pandemic that has canceled or postponed sports leagues across North America.
Nevertheless, the Suns won the game anyway on Thursday in a gritty 1-0 overtime victory at the Taber Arena in what may be the last sporting event in a long time in the area.
"We are champions in our own mind. To us and the kids, it counts. The adults all knew before the game that it was going to be a One-and-Done (instead of the regular best-of-three), but it wasn't until the 17-minute mark of the first period that we got the email to make it official that Hockey Canada was canceling the season," said Kevin Serfas, head coach of the Taber peewee "AA" Golden Suns. "Everyone in the building with some sort of know assumed that would be the only game and we were playing for the banner, but then we got the email that they wouldn't be handing a banner to anybody. So all we can take away is we won the last game of the season and that makes us league champions."
It was definitely a championship-like atmosphere on the ice, where both teams gave no quarter in the tight-checking defensive battle where quality chances were few and far between.
"There were two teams that were playing extremely tight and neither team was giving anyone anything. There was good flow, but there were just no opportunities. Guys were on pucks and on their man, limiting opportunities for the other team," said Serfas. "We probably out chanced them in the game, but we didn't capitalize on them. There were only two penalties in the game, it was just a really great game between two teams."
They say shoot at the net and good things can happen, and that's just what happened with the Suns OT game winner being a shot from the point by defenceman Jager Gugyelka which was deflected by forward Kobe Urasaki.
Serfas is well aware of how seriously not only Canada, but the rest of the world is taking in declaring a national emergency in trying to slow down the COVID-19 outbreak, it is just the human spirit of a special sports season being cut short that the Suns program hasn't seen in awhile in Taber where plenty of special friendships were made.
"As time passes on and people have time to reflect, with what was done here and the season that we had, it will be put into perspective. We had a special team here and there was a lot of emotion on the ice (Thursday) night after we were done and in the dressing room. There were a lot of tears," said Serfas. "What I preached over the last month was that we had an opportunity here and we didn't want to squander it and the kids bought into it whole heartedly and we didn't squander it, it was taken away from us. I understand the world is a different place today than it was two days ago, it's just when you have that opportunity given to you, it's a tough pill to swallow."
For now, the Taber peewee "AA" Golden Suns will be basking in the afterglow of a season that very few teams in the programs history has been able to accomplish, and they did it together with a camaraderie found on very few teams which made that final victory on Thursday a little bitter sweet.
"This is a really special group of kids and now they have to disband from here. Some of them might make 'AAA' in Medicine Hat next year or 'AAA' in Lethbridge next year. Some are staying in peewee and some will be playing bantam 'AA' next year. The group gets split four ways to Christmas," said Serfas. "We've spent more than 500 hours together since the start of the season and it's always tough when it's done. Every team wants to win its last game and we did. There's 19 other teams in the league and we were the team to win our last game. In our minds, we are the league champions no matter what piece of paper or banner says."