Memory Lane for inductees
Posted on March 19, 2020 by Taber Times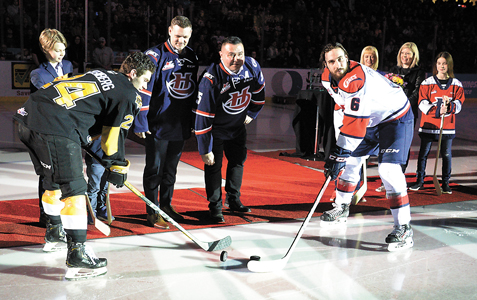 HONOUR: Byron Ritchie and Shane Peacock dropped the ceremonial puck at a recent game between the Lethbridge Hurricanes and Brandon Wheat Kings as part of Wall of Honour induction ceremonies for the two Hurricanes all-start alumni. TIMES PHOTO BY GREG PRICE
By Greg Price
Taber Times
gprice@tabertimes.com
As Shane Peacock and Byron Ritchie were the latest inductees into the Wall of Honour for the Lethbridge Hurricanes late last month, Taber-area hockey fans would see the duo putting up some of the most dominant season in franchise history.
But as fans see elite-level hockey in the Western Hockey League, what often gets lost in the shuffle is these kids are still teenagers, apart from 20-year-old over age seasons, far away from home chasing their hockey dreams.
"At the beginning, when you first get into your billets, mom and dad leave town and the reality sets in," said Ritchie, a North Delta native at the time as a 16-year-old, in an interview with the Times shortly after his induction luncheon at the Enmax Centre. "You are still on that high making the team and following your dreams. A month in, you get that home sickness and the reality strikes that you are gone from home and you are likely never going to be living at home full time ever again."
Ritchie applauded the strong billet families he had and teammates that helped him make the transition smoothly to the WHL, which saw the NHL veteran record two 50-goal seasons for the Lethbridge Hurricanes.
"I had a great leader in Jason Widmer that lived with me with the billets and he kept me grounded and helped out a lot with the homesick," said Ritchie.
Ritchie admitted he came in with a bit of a chip on his shoulder as a 16-year-old, going undrafted in the bantam draft. A strong pre-season and little playing time at first didn't help matters.
"I was pretty disappointed that I didn't play a lot back then. I didn't understand why. But coming back as a 17-year-old, I matured a lot physically and mentally from my 16-year-old year," said Ritchie. "Coming back as a 17-year-old was a big stepping stone for me in my hockey career. To tell you the truth, growing up in North Delta, you didn't really hear about the bantam draft, so I didn't pay much attention. But I remember getting the call from (Bob Bartlett) saying I was listed. Then you start to hear about the bantam draft and see all these players drafted before you and you get a bit of a chip on your shoulder.'"
Ritchie would go on to score 22 goals and 50 points in 58 games with the Hurricanes in the 1994-1995 season, to go along with a lot of sandpaper in his game with 132 penalty minutes.
Later on, Ritchie would record seasons of 106 and 126 points for the Hurricanes before he embarked on his pro career that took him to Carolina, Florida, Calgary and Vancouver, Russia and Sweden where he would eventually meet his future wife.
Ritchie, along with Peacock gave a pre-game speech to current Hurricanes players on their Wall of Honour induction weekend, where he is pleased to see how the game has evolved for the better.
"The game is in a great place right now with the speed and the skill of the game. Back when we were coming through, when you were 16 you didn't play a lot, maybe a couple shifts a game. You'd get thrown out at the end of the game to get beat up by the other team's 19 year olds," said Ritchie with a chuckle, who he himself had three WHL seasons with 115 penalty minutes or more. "That's just how it was. In one sense, it toughened you up and showed you the reality of things, but I like where the game is now with the speed and the skill. Players are getting an opportunity to play at a younger age. There could always be a little more push back, character and physicality in the game, but I get where we are going in trying to crack down on head injuries which I think is important."
As a fan watching Ritchie's hockey career unfold, Ritchie hoped he could be remembered for things not necessarily always seen on the ice.
"Being a good teammate and being a good person. Laying everything out there and working the hardest that I could," said Ritchie. "I had talent at the junior level and I believe I had some talent that went untapped offensively at the NHL level. But, I wasn't gifted like say a Sidney Crosby, but I'd like to think that I gave everything that I had every night and I played any role that was asked of me."
The Wall of Honour induction ceremony allowed Peacock to take many trips down memory lane where the city helped him become a man.
"Lethbridge has meant a lot me in my lifetime. To come to the game (against the Edmonton Oil Kings) and to see that atmosphere and culture, and see how the city has embraced the team is fantastic," said Peacock. "It was interesting to see, because even when we played in the finals those first couple of early years for myself, the building wasn't as full as it was (against the Oil Kings). To have that atmosphere in a regular-season game and have that support, it's a good sign the organization is doing the right things, bringing in the right people and players."
Peacock's name is splashed all over the Lethbridge Hurricanes record books, with three massive 80-point plus seasons manning the D-line, as the franchise's all-time leading scorer as a defenceman.
It is hard for Peacock to pinpoint any one moment where he felt like he officially 'arrived' as a teenager, but he was thankful for the grind that allowed him a pro career that took him all over Europe, playing 13 seasons in Germany.
"At the end of my first year, I had never played that many games before. We went to the finals of the league. To say I was able to compete as a 16-year-old and contribute, I knew I had an opportunity to play (professionally)," said Peacock. "At the end of the day for myself, it was about being a good teammate, somebody who worked hard and was a good leader. When it came to play, everyone in the dressing room knew I was ready to go."
Peacock would meet his future wife in Lethbridge while playing for the Hurricanes and was eventually drafted by the Pittsburgh Penguins in his draft-eligible year. Playing a few seasons in Michigan before embarking on his European hockey career, it all started as a 16-year-old away from home near Edmonton on the Enoch reserve, where Peacock became one of the trailblazers in heightening interest in hockey among First Nations.
"You leave home at an early age, at that time of myself, and it's no different now, you become very goal orientated. It's chasing the dream trying to give yourself an opportunity to try and make the NHL," said Peacock. "The WHL is a great avenue for that. It's hard. You are away from home, you are changing schools, and the travel and nutrition. There are lots of things you don't see at the rink that goes into it with the demands and the focus has to be there. I thank the city of Lethbridge and the organization for all the special memories that allowed me to become who I am, and the opportunity for this induction and becoming part of the Wall of Honour. Having my whole family here really made it perfect."