Celtics finish off near perfect basketball season
Posted on March 19, 2020 by Taber Times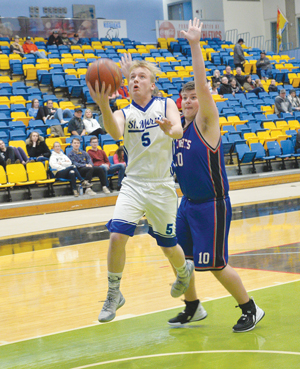 FINGER ROLL: St. Mary's Celtics' Peter Klassen blows by a J.T. Foster defender in the team's opening game of 2A Zones. TIMES PHOTO BY COLE PARKINSON
By Greg Price
Taber Times
gprice@tabertimes.com
With how dominating the St. Mary's Celtics boys basketball team has been this year in 2A boys basketball, maybe about the only thing that could beat them was the Coronavirus.
The Celtics season was abbreviated on Thursday when the 2A zone basketball tournament was cancelled due to concerns of gatherings over 250 people by the Alberta government due to the pandemic COVID-19. Since then the province has announced school for students has been suspended indefinitely.
"The season for us was an outstanding season. We only lost two games out of the 24 that we played so we ended up with a 22-2 record," said Ken Gabruck, head coach of the St. Mary's Celtics boys basketball team. "Our two losses came against the same team in Vauxhall. I know there's a lot of disappointment with the kids because they felt they had a chance (at winning zones). There is that kind of empty feeling now. We have to accept the decision that was made, but on the other hand, there were a couple of (senior) boys on the team who felt they didn't really have their best game as their last game of their (high school) career which is another disappointing part."
The Celtics can hang their hat on winning the last game of its season with a dominating 107-64 victory over J.T. Foster in its only zone game last Wednesday at Lethbridge College.
Beau Huseby had 25 points in the win and Peter Klassen poured in 20. Carter Hendricks had 17 points and David Klassen chipped in 16.
"As a whole I think we had a pretty slow start but then we played well after that. Once we got the big lead we were able to substitute quite freely," said Gabruck. "Huseby had one of his best games of the year. We knew we could always count on him for his defensive rebounding and his defensive play, but 25 points was my expectation of him of how good he is capable of playing."
Gabruck was happy with how the team molded.
"We had a group of players that got along really well. We didn't have any issues among players at any particular time during the year," said Gabruck, of a season that saw the Celtics win three tournaments in a row and end up in the final of two more.
For River Ridge Basketball League All-Stars, Carter Hendricks was co-MVP of the league along with Vauxhall Vikings' Carlin Dick. Beau Huseby and Seth Muller were voted all-stars.