Auroras end season on winning note
Posted on March 19, 2020 by Taber Times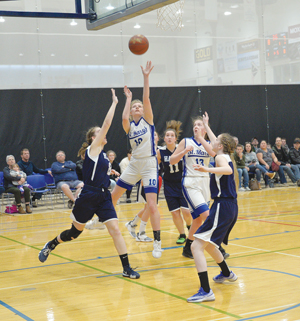 IN TRAFFIC: Jayda Kooiker of the St. Mary's Auroras puts up a shot in the team's first and only game of 2A Zones held at Lethbridge College. TIMES PHOTO BY COLE PARKINSON
By Greg Price
Taber Times
gprice@tabertimes.com
It has been awhile since the St. Mary's Auroras girls basketball program has been provincially ranked (No. 8 at one time), so there was a feeling of 'what if' after the team's brief participation in 2A zones last week at Lethbridge College.
The basketball tournament was officially canceled on Thursday due to the announcement by the Alberta government concerning events attended by 250 or more people to try and control the spread of the Coronavirus that has found its way to Alberta.
Before that, the St. Mary's Auroras beat Matthew Halton 61-56 the previous day and were looking forward to a match up with Kainai, where the winner would have been assured a spot at provincials given two seeds were coming out go the south.
Jayda Kooiker led the Auroras with 18 points and Kourtney Bos added 16. Eight different Auroras scored in the game.
"We had a great season and all I can say is it's disappointing. We are feeling it's a big loss," said Rose Ginther, head coach of the St. Mary's Auroras girls basketball team, who went into the tournament as the No. 3 seed. "We had no idea they were thinking of doing something like that. But, it's nice that we finished on a positive note, but we were hoping to get a chance at Kainai (Friday night). Seeing some of the teams they've played and we thought we definitely had a chance to beat them. We would have had to have played one of our best game to beat them, that being said, the girls were up to the task. A win there would of meant provincials which would have been big for the Grade 12s. But, what can we do? Something like this has never happened before from what I can remember, or what anyone can remember. This is something that can teach the kids resiliency."
Looking back on the season for the Auroras, it featured impressive consecutive game (5) win streaks where full team efforts were the norm.
"The seniors were playing well. Our Grade 11s and Grade 10s contributed a lot and showed leadership as well," said Ginther. "I was really proud of how they played as a team and we are really looking forward to having a strong team next year with players returning and the maturity the players showed."