Sparks lifts way to records
Posted on March 11, 2020 by Taber Times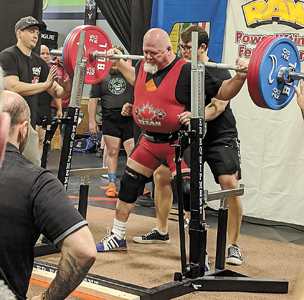 POWER POSE: Two more records fell for Randy Sparks at a recent powerlifting competition in Medicine Hat. TIMES PHOTO SUBMITTED BY RANDY SPARKS
By Greg Price
Taber Times
gprice@tabertimes.com
Randy Sparks continues to break powerlifting records.
Last month, Sparks competed in the the 2020 100% Raw Iron Challenge Powerlifting Competition at Gas City Crossfit in Medicine Hat.
There were 64 competitors, 26 women and 38 men at the contest from all across Western Canada.
Competing in the 60-64 Master Men category at 275 pounds, Sparks squatted 485 pounds, breaking both the Canadian and World record. Sparks continued on to bench press 220 pounds. The Taberite finished strong with a deadlift of 503 pounds, which was a new Canadian and World record. Sparks' lifts put him in first place in the Master Men 60-64 class.
The next powerlifting competition will be Saturday, March 14 in Taber in Body Master Gym and the archery centre starting at 9:30 a.m. There will be six locals competing at the event.