Rebels prepare for zones
Posted on March 11, 2020 by Taber Times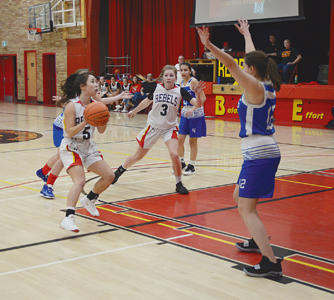 TIMES FILE PHOTO
By Greg Price
Taber Times
gprice@tabertimes.com
W.R. Myers Rebels varsity girls basketball team finished off its Southern Alberta High School Girls Basketball League regular season this past week with a 1-2 record in its last three games.
Last Wednesday saw the team suffer an 82-51 loss to Cardston Cougars.
"We played hard, but the Cougars had five different players hit about 15 3-point shots. That is really tough to defend," said Kenney Wood, head coach of the W.R. Myers Rebels varsity girls basketball team. "We had a number of missed shots that hurt our chances to catch up. The girls put a solid effort in, but it wasn't our night."
Rachel Pack scored 11 points in the loss and Elisa Rios hauled in 10 rebounds.
Friday's tilt saw a thrilling 58-55 victory by the Rebels in overtime over Medicine Hat Kwahommies on the road.
Anika Steed had a monster game with 16 points and 24 rebounds. Emily Hoyt had 13 points and Halle Johnson had the double double of 12 points and 10 rebounds. Hoyt's ice-in-the-veins free-throw shooting with 3.7 seconds left allowed the Rebels to put the game into overtime for the chance to win.
"We came out very determined in this game. Marty and I talked to the girls about being both mentally and physically tough and to not back down. Last time we played Medicine Hat, we'd lost by quite a bit, but we told them to believe that we could surprise them," said Wood. "We played right with them and were ahead most of the game. The whole game was exciting, but the fourth quarter was a little game in itself with many lead changes. The girls were super motivated and would not be denied, it was a well-earned victory."
Saturday had the Rebels honouring its seniors in its last home game of the season against the Raymond Comets in which the Rebels lost to the powerhouse 80-37.
"With Raymond being ranked third in the province, we knew we'd have our hands full and we did. Any turnovers we had were converted into points to the Comets. If we didn't get back on defence, they were making layups and if we didn't close out on their shooters, they were making threes," said Wood.
Hayley Jones had 14 points and Steed grabbed 13 rebounds.
"Playing these last three league games this week against teams that are in the 4A provincial ranks, we knew we'd have our work cut out for us. Our team goal this week was to battle hard physically and mentally come away strong. We accomplished that goal and even snuck an upset win in the process," said Wood. "We have four practices (this) week and then the first game of zones on Friday at 3 p.m. in Medicine Hat. This is the game we have been preparing for since Nov. 1st. We have taken our toll of bumps and bruises this season and nothing has been easy. Marty and I know that all these tough games have prepared us well and we will be ready to battle in zones. The girls are excited and should be physically and mentally prepared to take care of business."