Two more names on Wall of Honour
Posted on March 4, 2020 by Taber Times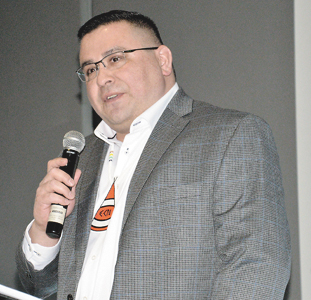 HURRICANE FORCE: Shane Peacock gives a heart-felt acceptance speech at the Wall of Honour induction ceremony at the Canadian Western Bank Lounge at the Enmax Centre. TIMES FILE PHOTO
By Greg Price
Taber Times
gprice@tabertimes.com
The Lethbridge Hurricanes Western Hockey League franchise history was celebrated over the weekend, when two more of its all-star alumni were honoured with induction into the Hurricanes Wall of Honour.
Hurricanes president Doug Paisley, and general manager Peter Anholt addressed a luncheon crowd at the Canadian Western Bank Lounge at the ENMAX Centre on Saturday, introducing 2020 inductees Shane Peacock and Byron Ritchie.
"We are here today to honour two very special individuals who helped put the Hurricanes on the hockey map with their play on the ice and how they represented the team off the ice," said Anholt.
Defenceman Shane Peacock came to the Hurricanes from Enoch Cree Nation, via the Notre Dame Hounds, playing for the Lethbridge Hurricanes from 1989 to 1994.
"He made an immediate impact as 16-year-old, amassing 30 points playing for the powerhouse 1990 Hurricanes. He also played in 19 playoff games that year with 10 points before bowing out in the league final," said Anholt.
Peacock would go on to represent Canada on the U18 team, which Anholt coached.
"I saw first-hand what a great player Shane was," said Anholt of an eventual Hurricanes' career that spanned 336 games, compiling 366 points.
"To put that into perspective, the next defenceman on the list is Calen Addison who has 213 points."
A former councillor with Enoch Cree Nation for four years, Peacock helped pave the way for increased interest in hockey among First Nations people, having the affectionate nickname of Chief in his pro playing career that spanned over 16 seasons in North America and Germany in the DEL.
Shaking off the emotion, Peacock cracked a joke about how his nose looked before the wear and tear of five WHL seasons. Peacock gave an impassioned speech, congratulating fellow inductee Byron Ritchie, and thanking the election committee, former billets, Hurricanes management and coaches present and past, former teammates, sponsors of the Wall of Honour and his family and fans.
Peacock cherished being able to return to Lethbridge and his trip down memory lane for his formative years of elite-level hockey as a teenager.
"I've always had the support of my family and my community in Enoch Cree Nation that encouraged me to follow my passion for the game. Every so often, family and friends would come down on an Enoch charter bus and travel for six hours to come watch me play as a Hurricane and cheer me on," said Peacock, keying on his uncle and role model, Grand Chief Willie Littlechild. "He taught me, among many things, the importance of sport and how it translates to all aspects of life to provide balance."
Peacock cherished the great games and dressing room laughs, to go along with the long road trips on the bus as boys learned to become men with his past Hurricane teammates.
"I'm not sure how we did it at times, but I'd do it all over again in a heartbeat. I made life-long friends here," said Peacock. "My time here opened many doors and opportunities it gave me. It gave me experiences and skills I've carried throughout my life, being drafted by the Pittsburgh Penguins (third round), being able to play for Team Canada, then having a 16-year professional career that brought me to Kalamazoo and overseas to Germany where I got to experience another culture, learn the language and travel throughout Europe."
Peacock then returned home to Enoch after his retirement from professional hockey, where he helped bring minor hockey back to the community coaching youth, and would later become a member of council.
"Last March, we hosted Rogers Hometown Hockey, along with the first-ever NHL broadcast in Plains Cree," said Peacock. "The theme of Hometown Hockey for us was United by Sport. We were able to showcase our culture and our language to the nation through the spirit of hockey that binds us. Sport brings people together and I am truly grateful for all the people it has brought into my life. The positive influence of my time here, has made me a better player and more importantly, a better person."
Bryon Ritchie came to the Lethbridge Hurricanes as a 16-year-old, where the two inductees got to play one season together.
Ritchie would go on to play 231 games for the Hurricanes, which included two 50-goal seasons, including a monster 1996/97 season in which he registered 126 points over 63 games.
He scored 297 points over four seasons. Ritchie's pro career included 324 games in the NHL with Carolina/Florida/Calgary/Vancouver. Ritchie's pro career spanned 20 seasons, with years in Switzerland, Russia and Sweden as well.
Anholt reached out to former Hurricanes teammate/best friend and NHLer Travis Brigley for words of wisdom on Ritchie.
"Brigley said as a player, Byron was a fierce competitor on the ice and trained really hard. He played the game as hard as anyone and left it all on the ice and as a teammate, he was a great leader in the room, both on and off the ice. He was one of those guys that teammates wanted to be around and looked up to. He wanted to be one of the best, and he had a blast doing it," said Anholt.
The diminutive 5-foot-10 centre fought for everything he got in his pro career, being bypassed in the then still novel bantam draft, and being a long-shot to make the Show, being drafted in the seventh round of the 1995 NHL draft by the Hartford Whalers.
Ritchie gave thanks to his fellow inductee as well, in helping him become an established WHLer, as Peacock was a 20-year-old captain at the time, and helped show the rookie the ropes.
"I kind of learned how to compete and go to war from him," said Ritchie, thanking the whole Lethbridge Hurricanes organization and his family's sacrifices. "I am very honoured and humbled to be on the Wall of Honour."
Bob Bartlett, senior scout for the Lethbridge Hurricanes and former GM for the Hurricanes when Ritchie played, jokingly apologized to Ritchie for not playing him more in his rookie season for the Hurricanes, just prior to presenting him with his plaque.
Nevertheless, Bartlett and took a chance on the undersized kid from North Delta who eventually blossomed into a dominant WHL career.
Going down the list of so many influences on his career, they included Bartlett and Randy Maxwell.
"I went undrafted in the bantam draft and I still remember the day you guys came to my parents' living room to convince them for me to come to Lethbridge. I already had my mind made up, you guys didn't have to make that trip," said Ritchie with a chuckle, adding former coach Parry Shockey in helped take the reins in 1996/1997 which helped Ritchie get out of some hot water in the 1997 Memorial Cup playoffs. "You are an amazing coach who taught us a lot, most importantly, you taught us how to be better people. Now that I'm a coach, all I can say to you is you were right, all the time," he continued with a smile.
Ritchie is amazed at the training regiments of today and how advanced they have become, remembering the diet of the day back when he played for long WHL road trips were chips. Nevertheless, while regiments have become more scientific today, the ones of yester-year rivaled the intensity.
"You showed us how to train hard. There wasn't a lot of science behind the training we were doing, but you were there to teach us how to work hard three or four times a day," said Ritchie in thanking trainer Trevor Hardy. "I appreciated the efforts and it got me on track to becoming pro hockey player."
Bryan Maxwell was head coach of the Lethbridge Hurricanes from 1995 to 2003, where Ritchie remembered all his positive influences.
"He taught us how to compete and play the right way to become pros, and more importantly, how to become great people," said Ritchie. "You were demanding, hard, fair. You knew when we needed pushing and when we needed a father figure. You always had our back, included when we had early-morning drives up to the league office to avoid suspensions, or the time you got me out of hot water with Dave Branch in the CHL Memorial Cup so that I could play one of the most memorial games of my career in the semi-final."
Ritchie also remembered his life-long friends he made in his four-year WHL career and all the sacrifices his wife and family made constantly moving around to chase his pro hockey career.
"I played pro and junior hockey for 24 years and these are four years I will never forget. Coming back into this building (Friday) night was electric. It brought back a lot of fond, fond memories. This organization has done a fantastic job," said Ritchie. "I truly believe this is the best place to play in the league and the best fans. It's a great junior city. To the fans in the city of Lethbridge, thank you for making me one of yours and part of your city."
Peacock and Ritchie, along wiht their families, would later tour the upgraded facilities since they played at the Enmax Centre.
The two Wall of Honour inductees gave a pre-game chat to the current Hurricanes team before its game against the Brandon Wheat Kings on Saturday, where a ceremonial puck drop was done by the duo with family in tow. After enjoying the game on the party deck, Peacock and Ritchie would later sign autographs and pose for pictures with the long line of fans who waited.