Rebels drop two games
Posted on March 4, 2020 by Taber Times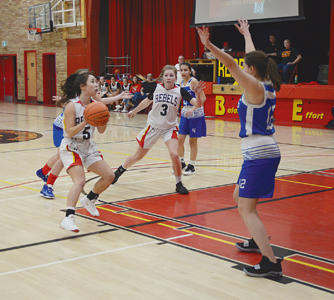 TIMES FILE PHOTO
By Greg Price
Taber Times
gprice@tabertimes.com
W.R. Myers Rebels had a tough week of Southern Alberta High School Girls Basketball League play, dropping two of three games.
The Rebels were in tough off the get go, dropping a 76-57 decision to the LCI Clippers last Wednesday.
"With the Clippers ranked in the top 10 provincially in 4A, we were going into this game with nothing to lose. The girls played extremely tough and gave LCI all they could handle. You know that the other team's coaching staff is unhappy when they make their team run lines at half time," said Kenney Wood, head coach of the W.R. Myers Rebels varsity girls basketball team. "We knew LCI would come out tough in the third quarter and we were ready for them, even winning that quarter by five points. In the final quarter we ran out of steam. Marty and I were very impressed with the team, they played very hard for 40 minutes and were within striking distance right up to the last five minutes of the game."
Abby Wood had 21 points and 10 rebounds. Hayley Jones had 11 points and Anika Steed hauled in 17 rebounds.
The Rebels would suffer a heart-breaking 60-58 loss to Catholic Central Cougars due to a sluggish first quarter (19-8 deficit) they could not recover from. Steed had 12 points and 16 rebounds and Jones also had a double-double with 14 points and 10 rebounds.
"We came out a little slow in the first quarter which ended up the difference in the game. The next quarters we played well, but just couldn't get the win. We had some costly turnovers which gave the Cougars some pretty easy points and missed some close shots early in the game," said Wood. "It was a game we probably should have won. Hopefully, the girls can take a step forward and learn that missed points and turnovers at the beginning of the game are just as costly as the ones at the end of the game."
The Rebels busy week ended with a big 68-43 victory over Chinook Coyotes on Saturday.
"With not much time to recover mentally/physically from the tough loss, Marty and I wondered how the girls would respond. We had played Chinook earlier in February and only won by eight. We challenged the girls to come out focused and they responded," said Wood.