Peewee Suns ready to rise
Posted on March 4, 2020 by Taber Times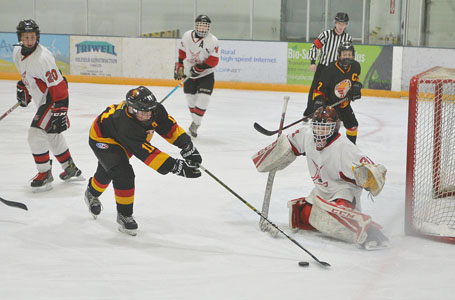 TIMES FILE PHOTO
By Greg Price
Taber Times
gprice@tabertimes.com
Taber peewee "AA" Golden Suns (24-4-3) finished off its South Central Alberta Hockey League regular season with a split and first place in the South Division secured over second-place Wheatland Braves (22-6-3) with the playoffs around the corner.
Friday saw an 8-2 victory over Lethbridge Hurricanes White (11-17-3) on the road.
Colby Gulliver and Kayden Yeaman both had two goals and two assists apiece, and Rhett Serfas, Noah Smith, Cage Smith, and Braxton Hanna had singles. Cason Van Hal had a quiet game in net, facing 15 shots on goal.
The Golden Suns finished off its regular season by being edged by Red Deer (10-16-4) 2-1 on the road on Sunday, despite outshooting its opposition 45-17 in the contest.
Hanna scored the lone Suns goal. Van Hal took the loss in net.
"We had a bit of a blunder (Sunday) against a team we shouldn't have. We weren't capitalizing on our chances and burying the opportunities we had," said Kevin Serfas, head coach of the Taber peewee "AA" Golden Suns. "That's a little bit concerning to me (for playoffs), but I hope we got that out of our system."
The Suns now enter its round-robin playoff format with two pools of four teams each, which starts Thursday in Strathmore. Top two teams from each pool advance to the semifinals on Saturday with the finals on Sunday.
"At the end of the day, we are being presented with an opportunity here that doesn't come very often. If you go to the rink and see the Golden Suns banners hanging from the roof, there isn't a lot of them there, and we have a really good group of kids here capable of doing something," said Serfas. "Our message to them is to really jump on it because these opportunities don't come around very often."
BANTAM: Taber bantam "AA" Golden Suns (8-22-7) lost all three of its games in its playoff round last week.
The first was a 4-2 loss to Okotoks Oilers (22-13-4) on Thursday.
Easton Mehlen and Brady Magarrell scored for the Suns. Kahil Wright took the loss in net.
The team proceeded to fall 7-3 to Wheatland Warriors (27-7-5) on Friday.
Magarrell, Connor Chapman and Ashton Lukacs scored for the Golden Suns. Rhett Klemen had two assists.
Keegan Stenger was the losing goalie, facing 37 shots on goal.
Bantam Suns finished off its playoff round with a 5-2 loss to Medicine Hat Hounds (11-21-6) on Friday.
Magarrell and Hayden Smith scored for the Suns.
MIDGET: Taber midget "AA" Golden Suns finished off its SCAHL regular season strong with a tie and a win among its two games, finishing at .500 in the process (16-16-2).
The tie came in a 4-4 draw with Lethbridge Hurricanes on the road on Friday, as the Golden Suns surrendered three unanswered goals in the third period (14-14-6).
Jayden Kostiuk, Quade Hughson, Nathan Verloop and Alonso Tapia Ruiz scored for the Golden Suns. Wyatt Broderson drew three assists. Blake Vaselenak earned the tie in net, facing 40 shots on goal.
Taber midget "AA" Golden Suns proceeded to edge Wheatland Chiefs (17-12-5) 3-2 on Saturday on the road.
Kostiuk, Kolby James and Carter DeBoer all scored for the Suns. Aidan Low was solid in net in his busy game, stopping 42 of 44 shots against him.