Firefighter bonspiel close to Swarbrick's heart
Posted on March 4, 2020 by Taber Times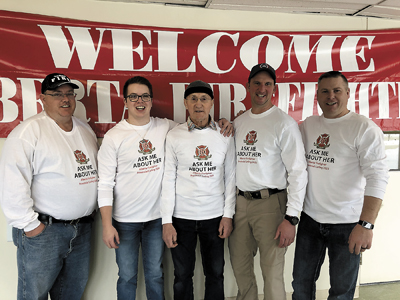 TEAM SUPREME: Taber had a team at the 2020 Alberta Firefighters Curling Association Championship. TIMES PHOTO SUBMITTED
By Greg Price
Taber Times
gprice@tabertimes.com
Taber Curling Club is set to make history in 2021, when it will become the first club south of Calgary to host the Alberta Firefighters Curling Association's 62nd Annual Championship.
Captain Steve Swarbrick of the Taber Fire Department has competed in the event for 10 years, and helped spearhead bringing the event to town.
"What keeps me coming back is the sharing and the camaraderie of the other firefighters. It is volunteer, paid on call, career firefighters, retired or active," said Swarbrick. "There's no hierarchy, there's nobody who acts better than someone else. The big attraction is hanging out with everyone, sharing stories and hearing stories."
That doesn't mean you won't see some competitive curling, as a trip to nationals is up for grabs as firefighters come to compete from all over the province.
"The furthest one I've ever went to was in Fairview which is just over a 10-hour drive. I've curled with people from Calgary, Olds, Edmonton, Fairview, just to make up teams," said Swarbrick. "Traditionally, there's about four or five teams that have a legit good shot (at nationals), another half dozen that have hope and then a bunch of others who are just there to curl and have fun. There's a level for everyone. You might get whooped a couple of games, but then you get guys down at your own level."
Each year of the provincial firefighter association curling championships, an AGM is held and one of the sections discussed is future hosts.
Swarbrick brought up Taber for the last three years, and this year went a step further inquiring to facility managers, hotels etc to see if they could accommodate.
"The biggest concern has always been coming this far south. There's a fear that we will lose some of the teams from the north which is understandable. But, hopefully we can generate a half-dozen teams from the south which have traditionally never been there that could replace some teams we would possibly lose," said Swarbrick. "This is the furtherest south it's been since 1976. It's tough to find people who have even heard of it, but it's the second oldest bonspiel in Canada (nationals). The oldest bonspiel is the Brier. The firefighters' championship is older than the Scots. It has been going since 1959."
The smallest championship Swarbrick has seen is 16 teams, with the largest being 32.
"I'm hoping we can be in that 24-team range," said Swarbrick. "We do have contingency plans, talking to neighbouring rinks. Vauxhall would probably be our first choice if we need to do two facilities. Ideally, you would like to have it in one facility, it's just easier that way. We're probably looking at 30 or 40 (hotel) rooms that will be needed because the majority of the teams will be out of town."
Always an ambassador of the game, who has helped introduce Sturling (stick curling) to the Taber Curling Club, Swarbrick hopes Alberta Firefighters Curling Association's 62nd Annual Championship will introduce the game to some.
"It is just to get people out to try it, to be part of it. You don't have to be a provincial champion, just a firefighter. If you are retired, it's five years for a volunteer, and 10 years for a career firefighter and you have to have a minimum of one-year service. That prevents anyone from bringing in a ringer, like bringing in a hot shot curler for a month to be a volunteer firefighter," said Swarbrick. "I've said it before, curling is the only game that a 20-year-old person and an 85-year-old person can go out have a game straight out. They may be just different games, where the 20-year-old is going to throw take outs all game long and the older person is going to draw you to death. You can play curling for the rest of your life. I just saw on Facebook, a 101-year-old curler. To me, it's a great sport."
A host committee is being formed for the Alberta Firefighters Curling Association's 62nd Annual Championship, where they will be going out into the community asking for help and sponsorship. If you would like more information on the championships, would like to sponsor or volunteer, call Steve at 403-634-3445.
Alberta Firefighters Curling Association's 62nd Annual Championship will be held from Jan. 27-30, 2021.