Town earns right to host firefighters curling championships
Posted on February 26, 2020 by Taber Times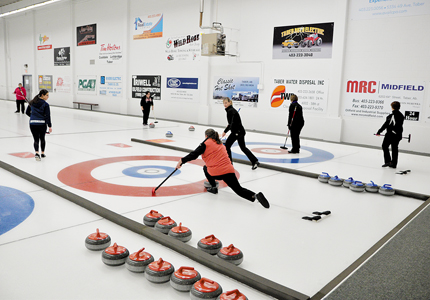 TIMES FILE PHOTO
Town of Taber and the Taber Fire Department are excited to announce Taber will play host to the Alberta Firefighters Curling Association's 62nd Annual Championship in 2021, marking the first time the event will be held south of Calgary since Lethbridge hosted back in 1976.
The event will be held from Jan. 27-30, 2021. Approximately 24-35 teams will battle for the provincial title, with the winning team earning their spot to represent Alberta at the Canadian Firefighters Curling Championships held later that same year.
"On behalf of Taber town council and the Town of Taber, we feel very privileged and are proud to host the Alberta Firefighters Curling Association Championship for 2021," said Mayor Andrew Prokop, "We look forward to this very special provincial competition, and providing a first-class event showcasing our hospitality for all to enjoy."
Taber Fire Department's Fire Prevention Officer, Steve Swarbrick, has played in the championship for the past three years as part of the Taber Fire Department's own team, and a total of 11 years with other teams, and is now on the planning committee for the 2021 event.
"To say we're thrilled to host the Championship in Taber is an understatement," said Swarbrick, "Having teams of fellow firefighters travel to our region to participate in such a long-standing tournament is a great honour, and we're excited to welcome each and every member in 2021. The planning for the event is ongoing, and our Taber Fire Service is eager to showcase the hospitality that our region is known for."
Teams are comprised of career, volunteer, and retired firefighters with a minimum of one year of service, and come from numerous fire services throughout all of Alberta.The Alberta Firefighters Curling Association was founded in 1958, and held their first Albertan Championship in 1959. The championship has been held annually ever since.
"I encourage all fire services throughout the province to start practising and prepare to register their teams," said Swarbrick, "As a player myself, I can't wait to see the talent of all the teams and to have fun playing against them in the tournament."
Further details regarding the event and registration will be posted to the Alberta Firefighters Curling Association's website at http://www.affca.ca.