Auroras looking to keep on shining
Posted on February 26, 2020 by Taber Times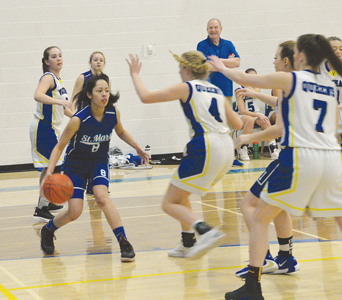 HOOPS: Brittney Medina of the St. Mary Auroras girls basketball team looks for a lane during an away game against the Vauxhall Queens earlier this month. TIMES PHOTO BY COLE PARKINSON
By Greg Price
Taber Times
gprice@tabertimes.com
Coming off the heels of some much-needed rest during Reading Week, the St. Mary Auroras are looking to finish strong as they prepare for 2A zones in March at Lethbridge College.
"We've come together and improved last as a team. Our team dynamic and our culture is really strong. Everybody is very upbeat and have a really good feeling of how they are together," said Rose Ginther, head coach of the St. Mary Auroras girls basketball team. "From the beginning of the year, we've focused a lot on team building and helping each other out on the court so no one feels by themselves. It's going to be key the last three weeks of the season because you never know what is going to happen at zones."
The Auroras have showed its stellar play through a dominant win over Senator Gershaw at the end of January and always battling moments with Vauxhall in taking the season-series.
"I don't know what it is about Vauxhall in their gym, but that game was a bit of a roller coaster. The kids showed a lot of patience and ended up winning by five," said Ginther. "They are a team that just won't go away, but our girls are tough and determined. Vauxhall is very tenacious and it's a good rivalry when both teams are like that. A game like that gives us some confidence and I'm sure you are going to have games like that at zones. It shows character as a team."
Ginther has been pleased with the team defence to go with solid outside shooting.
"We've got some height on our team as well. Being able got put all that stuff together will definitely help coming down the stretch," said Ginther. "We really focus our practices on our strengths and of course some of the things we need to add in to be the complete package to win those big games."
The Auroras played Erle Rivers on Tuesday at home with results unavailable at press time for Senior Night. The team finishes off its River Ridge regular season on the road Thursday against the same team. Foremost is hosting River Ridge playoffs next week.
"We stressed this week that we have a good team and not to stress too much about where the rankings are and all that. We need to focus on us and blending together as a team and what we do best."