Atom Oil Kings bow out of playoff race
Posted on February 26, 2020 by Taber Times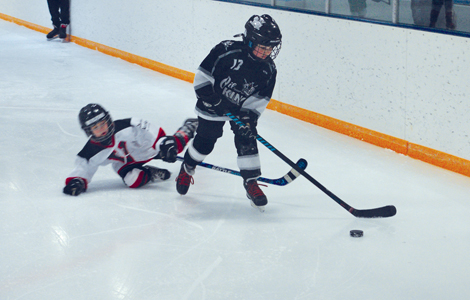 TIMES FILE PHOTO
Taber atom "A" Oil Kings have been eliminated from playoffs after its second loss in the first round, with a 10-6 defeat at the hands of Medicine Hat on Sunday.
Nixen Miller had four goals and an assist in the loss. Dane DeGraw had a goal and an assist. Delphin DeBoer notched a goal and Heston Hansen, Raiden Koizumi, Nate Kramer, Lincoln Wiebe and Cruz Duell had assists.
Earlier, the Oil Kings were edged by Medicine Hat 9-8 on Saturday in a hard-fought game.
Wiebe had two goals and an assist. Miller had two goals Wiebe had a goal and two assists. Duell had a goal and an assist and DeGraw and Ethan Volk each had singles.
Prior to the playoffs, the Oil Kings beat Bassano 8-2on Feb. 15.
Miller had a big game with four goals and an assist. Duell had a goal and three assists. Hansen scored a goal and an assist. Wiebe drew two assists and DeGraw and DeBoer notched single goals.
Taber atom 'B Oil Kings fell to the Indus Hurricanes 13-1 on Feb. 15 on the road.
Hayden Eldridge scored the lone Oil Kings tally.
PEEWEE: The previous weekend, Taber peewee Oil Kings had a full slate, including beating Magrath Chiefs 9-2 on Feb. 14.
Damian Beswick had a hat trick and Wyler Langhofer-Krahn scored twice. Tyson Church, Rex Bell, Chase Stronge and Blake Rabusic had singles.
On Feb. 15, the Oil Kings skated to a 9-9 draw with Foremost Flyers.
Beswick had another that trick and Zachary Fehr and Stronge scored twice. Langhofer-Krahn, and Tage Jensen had singles.
Oil Kings finished things off with a 12-9 victory over Irvine Bulldogs on the road on Feb. 16.
Ryan Gay had four goals and Langhofer-Krahn had a hat trick. Beswick notched two goals. Konnor Wiebe, Stronge, and Fehr had singles.