Polar Plunge benefits Special Olympics
Posted on February 19, 2020 by Taber Times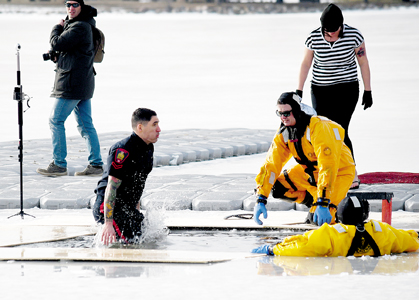 TIMES FILE PHOTO
By Greg Bobinec
Alta Newspaper Group – Lethbridge
First responders from across southern Alberta joined with the community of Lethbridge to take a chilly plunge into the waters of Henderson Lake for the eighth annual Lethbridge Polar Plunge.
The Law Enforcement Torch Run organized the Lethbridge Polar Plunge as one of their many efforts to help raise money and awareness for Special Olympics Alberta athletes.
"What we are doing is freezing for a reason and taking a plunge into Henderson Lake to raise money for Special Olympics, and this is through the Law Enforcement Torch Run," said Mathieu Champagne, lead event organizer, Taber Police Service. "It is a group of law enforcement officers from different agencies such as Taber Police Service, Alberta Sheriffs, Alberta Corrections, Lethbridge Police Service, Blood Tribe Police Service, everyone is involved here to help organize this event."
Community groups and businesses teamed up to raise thousands of dollars to help support local special olympic athletes, from World Financial Group, The Watch and different enforcement agencies. This year's number of participants was the largest in Lethbridge's history, surpassing its 120-person record last year.
"People are so happy to step up to support our local athletes and that is so great to see, and our numbers are huge this year," said Champagne. "If we can eclipse 120 it will be our best year ever, but we are here to raise those funds and raise awareness and interact with our athletes. The money goes towards helping them pay for registration fees, equipment, coaching, for all those sorts of things because they cost money, so if we can give back in that kind of way, that is how we do it."
This was the first year that Special Olympic athletes were able to participate and help raise funds themselves. Not only were the athletes excited to see the community support behind their achievements in sport, but were also excited to experience the cold plunge for the first time.
"Obviously for the athletes that took part in the plunge, they feel like everybody else, very cold but very excited," said Johhny Bryne, CEO of Special Olympics Alberta. "It's very cool to be with them and plunge alongside them."
This year, the Law Enforcement Torch Run, Lethbridge Polar Plunge, was able to raise over $30,000 to support Special Olympics Alberta athletes, and over 300 Lethbridge athletes.