Celtics plunder Vikings again
Posted on February 19, 2020 by Taber Times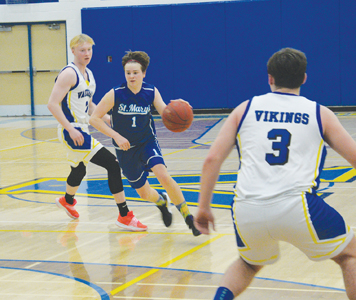 OFFENSIVE PRESSURE: St. Mary Celtics' guard Carter Hendricks looks for a lane to drive during the team's game in Vauxhall against the Vikings last week. TIMES PHOTO BY COLE PARKINSON
By Greg Price
Taber Times
gprice@tabertimes.com
St. Mary Celtics boys basketball continue to make an impressive run as they have their eye on March Madness with zones at Lethbridge College.
Fresh off the heels of winning three straight tournaments, the team made some history last week on the road, when they beat Vauxhall Vikings in River Ridge Basketball league play. It marks the first time the Celtics have been able to sweep the home-and-home series since the Vikings started taking baseball academy players on its team 14 seasons ago.
"We've beaten them before, and it's been about 50-50 over the last two years. But this is the first time we've been able to beat them in their gym in the second game for league," said Ken Gabruck, head coach of the St. Mary Celtics boys basketball. "We are at the point of the season that you have to play at that level from now on. There's strong teams in the zone that we haven't played yet, but that might be an advantage to us as well, not having seen our team play."
Up only 35-29 at half-time, the Celtics went on a huge tear in the third quarter to build its lead to 20 points. But, then the Vikings came roaring back to make it interesting, trailing by only five at one point on the way to eventually falling 80-73.
"We probably played our best 33-34 minutes in any 40-minute game we've played all year. We played really well defensively. We were able to pressure their shots. They forced some shots and we were able to get the rebound and get our running game going," said Gabruck. "But they came out in the fourth quarter with a really strong trap and pressured us. You expect that, because they have such great athletes. It was one part of our game that I thought we could handle, but it looks like we need to do more work on it. Unforced errors and then a little panic set in and we were picking the ball up in the wrong areas."
Nevertheless, plenty of Celtics had solid games, including Carter Hendricks who scored 30 points along with being a defensive force.
"He also caused last of defensive turnovers. He intercepted a lot of passes. We can always count on him offensively, but defensively he was able to read the play, pick off some passes, and scrambled for balls. It was one of his best games of the year," said Gabruck.
Carter DeBoer was also strong defensively with his work on the boards and knocking down passes in the post, along with scoring 11 points. Peter Klassen had 14 points.
"Seth (Muller) played with an injured hip and he played reasonably well playing basically on one leg," said Gabruck of Muller's 13 points. "We had balanced scoring again."
Celtics host Warner on Feb. 25 at 7:45 p.m. and then travel to Warner on Feb. 27.