Campground coming for Trout Pond project
Posted on February 19, 2020 by Taber Times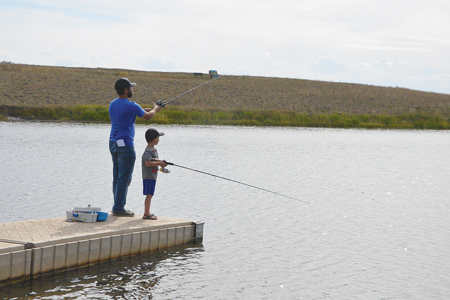 TIMES FILE PHOTO
By Trevor Busch
Taber Times
tbusch@tabertimes.com
With the Town of Taber investing heavily in the redevelopment of the Taber Trout Pond in recent years, a new campground should be available for the area in 2020.
The town invested more than half a million dollars in the pond area in 2019, and those investments are about to pay dividends for outdoor enthusiasts.
"That's $540,000 all total we had to deal with that. We've planted a lot of trees there, did the water drip system, did the new permanent bathroom," said Mayor Andrew Prokop. "It's not currently open just yet, but it will be for the spring. The campsites, there's nine new campsites there, all electrically tied in, with water available as well."
When the new campground is expected to be open will be dependent on weather and water conditions at the site, and when crews are able to finalize the work.
"We're shooting for May if everything works out," said Prokop. "Again, they're not completed with everything they need to finish up out there, but that's kind of weather dependent and how much that holds them up. If it's a little too wet out there it's tough for them to do any work of course, but if they can get going in March or even early April, we'll be fine for the latter part of May expected opening."
Although fishing tales usually need to be taken with a grain of salt, Prokop says he's been surprised at the size of the fish that are reportedly being taken out of the pond.
"We've had two more stockings done with the fish. We're up to about 10,000 fish stocked in there now. They've (anglers) had anywhere from about eight ounces to the one pound that were initially placed in there, and now they're catching two and two-and-half pounders in there. Things are going well there, they're thriving obviously. ACA (Alberta Conservation Association) tests the nitrogen levels and other things periodically to make sure everything's looking good. Because of the depth there, we don't need the aeration. So far, everything has been working well. It's deep enough that it doesn't matter what kind of cold weather we have or how much ice, they're doing just fine. The ice fishermen have been having a lot of success and a lot of fun there, too. It's gone over very well, and it's very popular. Most people like fishing at some point in their life. Even the ice fishermen and the die-hards are out there and given 'er and having some success with it."
In 2020, Prokop reports there will be water lines installed out to the park area, and more pathway work is set to be completed.
"There's some more work on the trout pond also. We've limited that budget this year down to $150,000, so they haven't earmarked exactly what's going to be done. Likely the pathway to Highway 864 for sure will be part of that, and then we're not sure, there may be some smaller figures available from whatever we haven't spent from the 2019 budget for that."