Rebels trap Coyotes
Posted on February 12, 2020 by Taber Times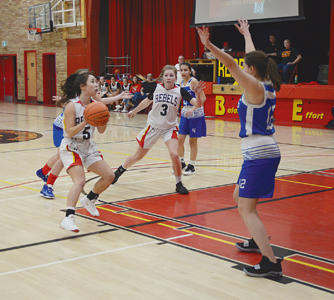 TIMES FILE PHOTO
By Greg Price
Taber Times
gprice@tabertimes.com
Fresh ofF the heels of a silver-medal finish at its Rebel Classic basketball tournament, W.R. Myers Rebels varsity girls basketball team were able to upend Chinook Coyotes 62-54 in Southern Alberta High School Girls Basketball League play last Wednesday.
"It's always difficult to bring your 'A' game after an emotional Rebel Classic. We really struggled offensively the first three quarters. We were playing hard, but not making the best choices," said Kenney Wood, head coach of the W.R. Myers Rebels varsity girls basketball team. "Luckily we were working pretty hard on defence, so we were in the game. We were able to put together a 28-point fourth quarter, and played extremely well the last five minutes to seal the game up."
Three Rebels were able to finish with double-doubles, including Abby Wood (12 points 10 rebounds), Anika Steed (20 points 12 rebounds), and Elisa Rios (16 points 10 rebounds).
The Rebels are off to a tournament at Wetaskiwin Composite High School this weekend, looking to exact some revenge in its Rebel Classic loss to Wetaskiwin earlier this month.