Peewee Suns continue to power way to playoffs
Posted on February 12, 2020 by Taber Times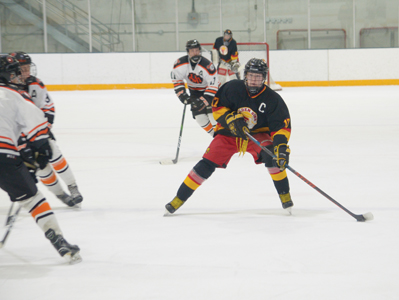 TIMES FILE PHOTO
By Greg Price
Taber Times
gprice@tabertimes.com
Taber peewee "AA" Golden Suns (23-3-3) continue to pile up the goals and the wins in South Central Alberta Hockey League play.
Playing two games in Vauxhall this past weekend, the first was a 5-2 victory over Medicine Hat Black (17-8-3) on Friday evening, scoring four unanswered goals.
"Our focus has been since going back to December, is we have been wining games and some a lot easier than others. We have been concerned about losing focus and falling to a level of mediocrity. We have been really working with the kids in that regard," said Kevin Serfas, head coach of the Taber peewee "AA" Golden Suns. "Medicine Hat Black has been in third place the whole year and we had back-to-back weeks, knowing they would be tough. We came out and took care of business there."
Cage Smith and Braxton Hanna tallied twice and Kayden Yeaman had a single. Colby Gulliver drew three assists. Bryan Noble earned the win in net, facing 33 shots on goal.
Peewee "AA" Golden Suns proceeded to beat up on Chestermere Lakers (6-19-1) 12-2 on Sunday afternoon.
Gulliver had a huge game, with five goals and three assists. Jarret McNeill, Yeaman and Smith all had two goals apiece. Jager Gugyelka notched a single. Noah Smith had four assists.
Cason Van Hal earned the goaltending win, facing 25 shots on net.
"Chestermere gave themselves a bit of an opportunity to sneak into the last playoff spot and it was something that we preached that they'd be playing hard. They needed to get some points. The boys came out with a bang (Sunday) and took care of them in a flurry," said Serfas of the Suns who swarmed the Lakers with seven first-period goals.
Taber peewee "AA" Golden Suns do not return to SCAHL play until Feb. 28, with a road game against Lethbridge Hurricanes White and a March 1 road game against Red Deer.
Taber peewee "AA" Golden Suns are comfortably in first place in the South Division, five points ahead of the Wheatland Braves, where the Braves would have to win its remaining league games and the Suns lose theirs to flip in the standings. The creme of the crop are the Suns and Braves in the South and Bow Valley Timberwolves (22-1-4) and Olds Grizzlys (18-7-1) in the North.
Having a two-week gap between games with a league bye coupled with the upcoming Alberta Winter Games in Airdrie, Serfas wanted to ensure the Suns didn't lose its momentum, while also amping up the competition to get into playoff intensity early.
"We want to push ourselves as hard as we can with some higher-level teams, so we have two exhibition games lined up against two top teams in Calgary," said Serfas of games on Feb. 21 and 23 on the road. "(One of the teams) is probably one of the top five teams in Western Canada. We feel like we need to put ourselves up against these really high-end teams to prepare us for playoffs. We really feel like we have a team that can push to possibly win the South, play the top North team and push for provincials. The route we are taking, we hope we can get there by pushing ourselves."
BANTAM: Taber bantam "AA" Golden Suns suffered a 5-3 loss to Okotoks Oilers at the Taber arena on Sunday.
Riley Preachuk, Rhett Klemen and Connor Chapman scored for the Suns. Brady Magarrell had two assists.
Keegan Stenger took the loss in net, facing 36 shots on goal.
Taber bantam "AA" Golden Suns host Wheatland Warriors on Saturday at 5:30 p.m. at the Taber Arena. The team travels on Sunday to take on Lethbridge Hurricanes.
MIDGET: Taber midget "AA" Golden Suns earned victories over Medicine Hat Hounds and NWCAA Stamps in SCAHL play on the weekend at the Taber arena.
Friday night's tilt was an 8-2 win over the Hounds.
Nathan Verloop, Cody Stange and Wyatt Broderson all had two goals apiece. Josh Verloop and Kolby James had singles.
Blake Vaselenak had the win in net, facing 41 shots on goal.
The team proceeded to double up on NWCAA Stamps 4-2 on Saturday night.
Carter Deboer tallied twice and Carson Cleland and Josh Verloop each had singles. Quade Hughson drew two assists.
Aidan Low earned the win, facing 28 shots on goal.
Taber midget "AA" Golden Suns are on the road this weekend, with games against Medicine Hat Hounds and Okotoks Oilers.