Wight tops in open Spartan field
Posted on February 5, 2020 by Taber Times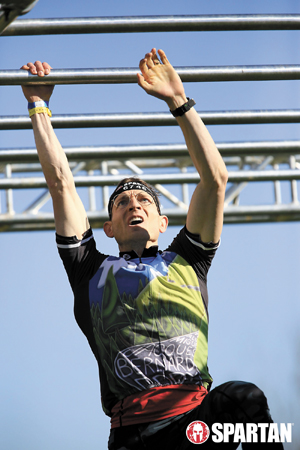 TIMES PHOTO SUBMITTED
By Greg Price
Taber Times
gprice@tabertimes.com
Taberite Darin Wight eclipsed the entire open field at the Southern California Super Spartan Race last month for top honours, beating out nearly 5,000 participants with a time of 59 minutes and 23 seconds.
The Spartan race was divided into three categories with elite, age groups and open.
"The open category is groups of people doing it for the first time, it's more casual overall," said Wight, who has participated in five Spartan races himself overall. "When we moved here in the summer of 2018, I had a couple of friends who had done some races in Dr. Eric Leishman and Bo Hatch, invited me to a race down in Seattle, which was my first one, and I really enjoyed it."
Wight finished ahead of the open pack on the 10-kilometre loop which featured 25 physical obstacles for Wight to overcome at the event at the Southern California Super Spartan Race at Parado Regional Park in Chino, California.
"The obstacles can be anything like a variety of monkey-bar type things, a 400-pound tire flip, sand bag carries, wall climbs, barb-wire crawls, and it's quite the fast-paced run through," said Wight.
If you complete an obstacle you can keep going. But if you fail an obstacle, you have to do 30 burpees.
What aided Wight in his first-place finish was being able to complete every obstacle that was before him.
"In other races until now, I always failed one or two obstacles. My goal in this one was not to fail any and I didn't, so I didn't have to do any burpees and that really helped with my time," said Wight. "I just went as fast as I could and I figured if I ran out of steam, I ran out of steam. I pushed hard and kept a smile on my face. Probably the 400-pound tire flip was the toughest, just getting the fingers under there and doing proper form. The sand bag carries always burn the legs."
Wight had done some endurance races throughout his life in triathlon, mountain biking/road races and running.
"I rally enjoy endurance-type events. They are fun and challenging and have that outdoor thrill of being out in nature, running across trails and creeks," said Wight. "I really enjoy doing 10-kilometre races and that seems like where my strength is."
Having a behind-a-desk, not-so-active job as a lawyer in town, Wight relishes any chance he can get to stay in shape.
"I'll go at lunch and play on the monkey bars, do chins ups and strengthen my grip and people will see that weird guy in the tie at the playground," said Wight with a slight chuckle. "I'm always training, that's my mentality. I walk or run to work with my briefcase, or other random objects I can find to carry. I live down by the hospital, so it's about a kilometre. I have a good little home workout routine with young kids doing biking or jumping on the tramp. Having a race I've signed myself up for keeps me focused and gives me a goal to strive for."
Elite is the professional-level athletes for Spartan races, where even with that, Wight was only 11 minutes out as an open athlete compared to the top elite time at his California race.
"They do races a fair amount. The top finisher in the elite category got like 48 minutes. Compared to all the elite, age and open categories, I came in 23rd overall in about a 6,000 (total person) race," said Wight. "The elite guys are sponsored by Spartan and other companies. If you look at the Web site, they do 20 to 30 races a year and they travel all over. There's usually a race going on every few weeks somewhere in the world. There's events all over the United States and Canada."
The Taberite is signed up to do another Spartan race in Montana in May and another in Red Deer in June.
"It's fun and we got the kids doing it now. They enjoy the obstacles and it's getting them out exercising," said Wight of his children who are three, six, nine and 11 years old. I'm grateful for a good, healthy body, parents that taught me to eat healthy and take care of the gift of a body I got. I got good friends to do it with and good family to spend time with doing it."