Rebels girls meet Wetaskiwin again in final
Posted on February 5, 2020 by Taber Times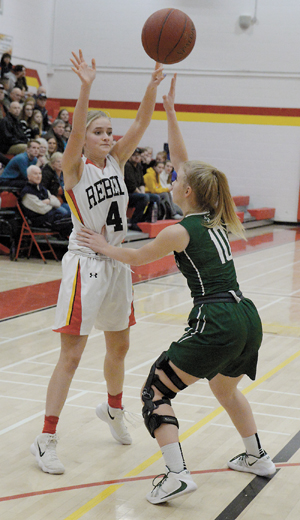 TIMES FILE PHOTO
By Greg Price
Taber Times
gprice@tabertimes.com
W.R. Myers Rebels varsity girls basketball team faced a familiar foe in the championship final of the Rebel Classic.
But, this time it was the Wetaskiwin Sabres getting the better of the Rebels in a 78-72 victory over W.R. Myers in the final on Saturday evening.
"This is the matchup that we were hoping for. Westaskiwin is one of the top 3A teams in the province. We have played them in our final the last three years and had played them in their tournament final last year, and then again last March in the provincial championship game. The game was very close the whole way," said Kenney Wood, head coach of the W.R. Myers Rebels varsity girls basketball team.
Anika Steed recorded the double-double for the Rebels with 22 points and 12 rebounds. Emily Hoyt was on fire from beyond the arc, shooting 7-for-10 on three pointers on her way to 22 points. Elisa Rios had 11 points.
"Ani played a great tournament, and once again gave us a solid performance in an important game, going 6-for-6 from the line and 8-for-13 from the field. Emily really stepped up her offense in this game. Marty and I were extremely happy to see her have such a break-out game," said Wood. "We have a few things to work on that will help us win these close games. We had a number of unforced turnovers both in the backcourt and frontcourt. If we take those away, the outcome becomes very different. Losing your home tournament is never fun, but I know we learned things that we can do better that will hopefully give us an edge. As a team, it's better to take a loss in a tough fought game now and have some time to work some kinks out, than to lose in March when your season is on the line."
The Rebels kicked off its tournament run with a lopsided 66-23 win over Calgary F&I on Friday.
Aynsley Kunz had 14 points in the win. Rios added 12 points and Hayley Jones chipped in 11.
"We wanted to come out very quickly and dictate the pace of the game. We were able to cause some turnovers early which lead to some layups," said Wood. "We were in control of the game the whole way and everyone received a lot of floor time and were able to contribute to the win."
The Rebels qualified for the Rebel Classic championship by dispatching Crescent Heights 69-49 early Saturday.
Three players powered the Rebels with double-doubles in Steed (24 points 15 rebounds), Jones (21 points 11 rebounds) and Abby Wood (12 points 10 rebounds).
"Crescent Heights is a team that we could face in zones, so we wanted to play them tough, so that when zone rankings are made, we would be ahead of them," said Wood. "We had a tremendous first quarter and scored 32 points. This gave us a bit of a cushion and we were able to increase our lead and ended up with the 20-point win. We had three girls with double doubles. When we do that, we are going to be a very hard team to beat."
Rebels return to league action today with a home contest against Chinook. Junior varsity is at 6 p.m. with varsity to follow. The Rebels also host Cardston Cougars on Monday, with junior varsity at 6 p.m. and varsity to follow at 7:45 p.m.