Celtics take title in Diamond City
Posted on February 5, 2020 by Taber Times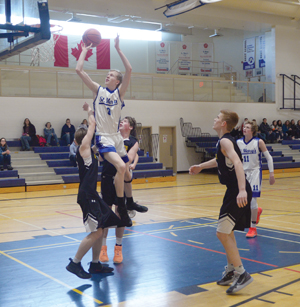 TIMES FILE PHOTO
By Greg Price
Taber Times
gprice@tabertimes.com
St. Mary Celtics boys basketball team ran the table this week with a perfect 4-0 record, culminating in a tournament championship in Black Diamond.
The Celtics opened up with a dominating 98-31 victory over Crossfield in its tournament run.
Carter Hendricks poured in 22 points and Sebit Gatluak had 14 points.
Carter DeBoer added 12 points, Seth Muller had 11 points and Luke Bell added 10.
"We got good balanced scoring. Games like this definitely help us getting the bench in more and getting them some experience. Kids are getting more confidence and it's starting to show. A young Grade 10 kid in Brendon Appleton who doesn't have lots of basketball experience is getting a whole lot more confident on the court," said Ken Gabruck, head coach of the St. Mary Celtics boys basketball team.
The Celtics clamped down on its next opponent as well, punching its ticket to the championship final with a 79-54 win over Kate Andrews from Coaldale.
"This game was one of our best defensive games of the year. We worked really hard defensively and Kate Andrews is a tough team. They got a couple of kids who can shoot from the outside and another kid who is very strong on the inside. With the strong defensive pressure we applied we took their offence out of it," said Gabruck. "Defensive rebounding was key for us. Once we started dominating on there, it went a lot better for us."
Hendricks hit a team-high 23 points and DeBoer and Beau Huseby had 16 points apiece.
Muller added 10 points.
The Celtics battled Bassano in the final and emerged with an 80-52 victory.
"It was a game of two halves. We only led 38-33 at the half. Huseby and Muller really dominated the boards in the third quarter and we went on a 27-6 run," said Gabruck. "Bassano got frustrated and wasn't taking good shot selections which led to easy rebounds for us and get the fast break going."
Last Tuesday saw the Celtics beat Senator Gershaw Gators 98-51 in River Ridge Basketball League play.
Leading 44-33 at half-time, the Celtics flipped the switch defensively in the second half to run away with the game handily.
"Our defence was pretty porous in the first half. I don't think we came out with much intensity defensively, and they were able to stand in the ball game. But, a big change over in the second half definitely led to better defensive rebounding and getting the fast break going," said Gabruck.
Five Celtics players notched double-digit scoring, including Hendricks (18), DeBoer (16), Peter Klassen (15), Huseby (13), and Muller (10).
The Celtics are off to a tournament in Nanton on the weekend and then play a rescheduled River Ridge game against Vauxhall Vikings on the road on Monday at 6 p.m. Auroras follow at 7:45.
"It'll definitely get much tougher by the end of February. Playing Vauxhall is always such a tough ball game, they gave a great basketball club. We will have to play really well and really hard to stay with them," said Gabruck.