Muller entering international oval
Posted on January 29, 2020 by Taber Times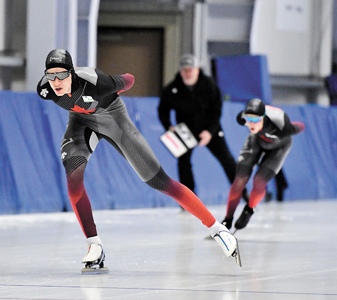 TIMES FILE PHOTO
By Greg Price
Taber Times
gprice@tabertimes.com
Cranford's Kaleb Muller will be one of 15 Canadians competing at the inaugural ISU Four Continents Speed Skating Championships starting on Friday and going until Feb. 2 in Milwaukee, Wisconsin.
Comprised mainly of NextGen athletes, Canada ill compete in long track against top competitions from North America, South America, Asia and Oceania for the first edition of the international competition.
"The selections (for the Canadian team) were based off Canada Cup 2 which was in Calgary. There's three spots per distance and so whoever placed in the top three in each distance," said Muller. "There were some skaters who decided not to go because there are World Championships coming up, so it opened the door for some up and comers. It's nice for me to get some international experience."
Muller found out he qualified for the competition shortly after his Canada Cup competition in the first week of January.
"We have a general outline at the beginning of the year of how our training is going to be," said Muller as a NextGen athlete, who will be competing in the 5,000-metre event and the team pursuit at the championships in Milwaukee, which is an indoor oval. "I always like to shoot for personal goals and skate as best as I can. I'd like to place well against the other competitors. I just want to focus on my technique and what I'm there to do and no let all the external factors affect me."
Muller already possesses the fourth-fastest 5K in Canada for long-track speed skating, Muller will see later this week how he fares against international competition while also making improvements personally in his form in the sport to shave off time to push himself even more.
"You can always improve on your technique. For me, I struggle a little bit with staying strong in the skating position. It's one thing I've addressed with my coaches and I'm planning on doing some more weight-room sessions for the summer to get myself stronger," said Muller.
CBC Sports will have live streaming coverage of the ISU Four Continents Championships from 15:30 to 20:15 EST on Friday and from 14:00 to 16:30 EST on Saturday and Sunday. Muller is also competing in the ISU World Cup in Calgary from February 7-8.