Cake auction offering up basketball for sport sweet tooth
Posted on January 29, 2020 by Taber Times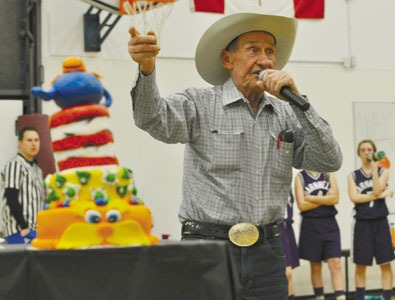 TIMES FILE PHOTO
By Greg Price
Taber Times
gprice@tabertimes.com
You can have your cake and enjoy basketball, too.
Barnwell School is gearing up for its annual Cake Auction and basketball extravaganza which goes tomorrow and is gaining quite the reputation in southern Alberta basketball circles of an event with a special mystique.
"I would say it's small-town Indiana which is alive and well in Barnwell, Alberta," said Aaron Edlund, vice principal and athletic director at Barnwell School. "We've been inviting different teams over the years and have been playing in the Westwind league the last few years, and the competition is excellent. We invited Magrath last year, and that's basketball territory too and they were really impressed with the atmosphere and they were so glad they got the chance."
League games in junior high basketball are usually at 4 p.m. where often parents are still at work and cannot watch their kids. The Cake Auction basketball games draw packed gymnasium that is standing room only, giving the kids a whole different feel to their Cake Auction games.
"Nobody is usually there to watch you and so it is a completely different experience at the junior-high level," said Edlund, adding this year's competition will be Raymond. "Our kids really play up for it because they know what to expect. We are usually a few points better at the cake auction games than we are normally."
Edlund is making no promises for victories for either the Barnwell boys or girls Trojans teams, with Raymond having beat them earlier this season.
But that was the same situation last year against Magrath with both Trojans teams getting wins.
"We are hoping the Cake Auction will be the great equalizer," said Edlund with a chuckle. "But, we will see, you never know with junior high kids."
Edlund played university basketball at the U of L with Danny Balderson, who at one time won the Moser award as best university basketball player win Canada. Balderson was coaching a Magrath team at last year's Cake Auction.
"He's a friend of mine and knows a lot about basketball and for him to come in and say 'wow, this is special,' it makes you feel good where you know you're doing something right," said Edlund.
When Barnwell School moved into its new digs after modernization, Edlund was afraid the Cake Auction basketball games would lose their mystique, but it has only grown it.
"The whole small-town Indiana thing that helped with the aura of it was how tiny and gross our old gym was. As crazy as it sounds, I was afraid we were going to miss that with the full Cake Auction affect when we moved into the new building," said Edlund. "But, it's grown. It's still standing-room only, but now you don't have to sit behind pillars and things like that."
Intertwined in the Trojans basketball games are the fundraising cakes up for sale from the community that are both store bought and hand crafted by eager Betty Crockers.
"I'm not in the budget to bid on some of these cakes. If you don't come with $500, you are probably not coming away with one of the auctioned cakes," said Edlund, adding 10 cakes are chosen to be put up for auction while the hundreds of others are put on the raffle tables which total around the 50 mark for overall submissions. "What has been sort of cool is we have been able to tap into our school's competitiveness. The people who bake for us want to bake the coolest one. It's not just about wins and loses on the scoreboard for the games or which cake raises the most, but which cakes have people looking them and going 'wow.'"
Originally thought as an idea for a fundraiser for athletics, where the school Edlund went to in Iowa as a youth, it has grown to help other programming throughout the school.
"It's not jus them doing this. Every teacher on staff is helping. Everyone is chipping in and if something needs to be bought for whatever, it doesn't have to be in the athletics wheelhouse," said Edlund.
While Edlund is always pushing excellence in athletics, he freely admits his baking skills were anything but back in his high school when they had their Cake Auction event.
"I go the idea from my high school in Iowa. Us group of boys on the cross-country team, we baked a cake which none of us knew how to do," said Edlund. "It was terrible and it didn't make any money, but we had a lot of fun making it. It helped us contribute to school spirit. If you can imagine 15 16-year-old boys trying to make a cake for the first time. At that time it was a silent auction, and I think the only way our cake made it over $10 was somebody's Mom put a bid in. Not every cake is going to make $500, but it's about the thought that is put into it and making the night special."
The cake auction with be going on at half-times of both and the girls and boys games and the break between the two games. Trojans girls basketball team plays at 5 p.m. on Thursday, with the boys following at 7 p.m. on Jan. 30.
"Make sure you come early to get a good seat," said Edlund.